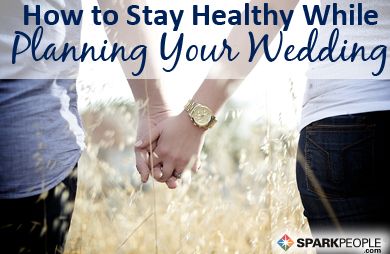 Congratulations! You're getting married! This is to be the most blissful event of your life. Every decision, from the flowers to the favors, is in your newly banded hand! For some, this may be just a few months of extra phone calls, no sweat! For others, it can be overwhelming, and not at all what they expected. From setting the date to saying "I DO" here are a few tips (and SparkPeople tools) to help you get through the planning process!

Delegate
Planning a wedding takes much thought, preparation, and a lot of extra time to get everything done exactly the way you want it. But if you're like most brides, you still have a life to tend to—your career, family and friends, maybe even finishing school. Delegate some simpler tasks to your family, friends, and wedding party.

Ask them to call different reception halls or caterers to book some appointments. They can even browse the Internet for you, picking out color schemes, floral arrangements, bridesmaids dresses, etc. Just make sure you give them clear direction of the themes you may be looking into, or send them a few swatches and let them go! The more people you turn to, the more creative ideas you'll come up with to make your day extra special!

Exercise
True, it's the oldest trick in the book—but with good reason. Elevating your heart three to five times a week improves your health all around! From having more energy and increased stamina, to better concentration, this classic trick will help reduce the stress of having to choose between chicken and fish for your friends and family to chow on during your big night.
Aside from these benefits, you'll look good to! Your newly toned body will be a perfect fit in that perfect dress, and all your hard work will put a smile on your face!

Check out SparkPeople's 10 Minute and 30 Minute Workouts to help you squeeze in exercise when you're short on time.

Eat right
We've all heard that an apple a day keeps the doctor away. While you may not eat an apple everyday, getting a daily dose of fruits and vegetables, among other important nutrients, will do your body good! Choose foods that are rich in protein (chicken, fish, peanut butter) and water (watermelon, grapes, and even soups) to nourish your hard-working muscles, and stave off hunger for those long days of driving to different venues.

Continued ›
Article created on: 3/2/2005