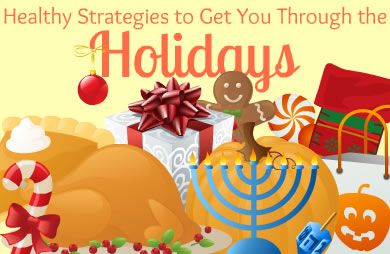 Trick-or-Treat!!!!
Over the river and through the woods….
Chestnuts roasting on an open fire…


Halloween, Thanksgiving, Christmas, Hannukah or Kwanzaa – the Holidays have a way of triggering terror in the minds of anyone trying to diet. It seems the only ones who look forward to the joys of the season are the four-footed creatures that relish belly rubs from guests and Holiday leftovers. How do you stay sane (and slim), whether you're stuffing trick-or-treat bags, turkey, or oversized stockings? Remember how CHEERful the holidays are meant to be!

C

ommit to yourself first


Don't be afraid to break from tradition, self-imposed or otherwise!
If you've solely prepared the dinner for your twenty closest relatives for the last ten years, try to share the responsibility or split the cost of a catering service. If you really want a break, don't be afraid to say "No" this year.
H
ave it Your Way
Buy only one bag of candy for for trick-or-treaters, and turn out the lights when you it's gone– no guilt allowed.
If you're invited to Thanksgiving dinner, enjoy your meal and refuse the leftovers.
Release some of the Christmas family gift-giving stress by drawing names, giving to charities instead of each other, or investing in a telephone conference for the whole family. What could be a better gift than giving the ability to stay in touch year round?
E
at Moderately
Buy Halloween candy you despise to avoid eating it yourself. Or, give out boxed raisins, bagged pretzels, nuts or pennies. If you lose popularity with the kids, you'll be spared next year.
Ask yourself, "Does all the traditional Holiday food really feel 'comforting,' the day after?" Create your own healthy meal tradition—think more vegetables, less grease, and lower-fat desserts. Small substitutions can make your favorite foods healthier. Try vegetable broth instead of chicken/beef stock, egg substitutes, and fat free whipped topping for your pie.
Choose your battles. If you want a glass of eggnog, savor it; but realize (and remember) that you just drank your allotment of Christmas cookies.
E
xercise Snippets
While sewing those Halloween costumes, keep your abs tight by pulling your navel back to your spine and softly wrapping your ribcage around your upper abs. This is your natural abdominal girdle. Make yourself a costume and join in on the fun!
Take a stroll before and after your Thanksgiving meal. Soak in brisk autumn air, enjoy the vibrant color that surrounds you, and ponder the three things you are most grateful for in your life.
Before you slip into that little black party dress, utilize some of your "home gym equipment." Run up and down your stairs a few times, do triceps dips on a dining room chair, march in place, or do wall squats. Add your favorite tunes, and, time permitting, repeat.
R
est and Relaxation
Forget shortcuts…opt for a "long cut." Instead of working on your to-do list, cooking dinner, or watching TV, take time out to relax. Curl up with a book and a cup of hot cocoa, and wrap yourself in a cozy blanket before the ghosts and goblins ring your doorbell. Relish in your childhood memories and truly experience their joy as you "treat" them.
Before the guests arrive, practice conscious breathing. A study from the Harvard Mind-Body Institute has shown that breathing can change your mental and physical state. Inhale for four counts, hold for two, and exhale while counting to six. You'll be calmer, relaxed, and less stressed.
Get enough sleep. Lack of sleep puts stress on the body, causing the release of cortisol, which promotes fat storage. Fatigue can trigger overeating of simple sugar, high-calorie, and low-nutrient foods. So, make sure you keep your regular sleep schedule, even during holiday vacations.
Commit to yourself by planning the Holidays your way, eating moderately, exercising for energy and taking the time to relax and enjoy them. Happiest Holidays and Cheers to Your Good Health!
Article created on: 9/16/2004