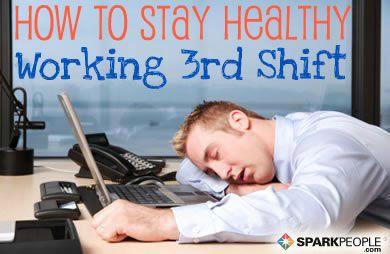 The third shift. Unavoidable for some. Dreaded by many. At a time when it's difficult just to stay awake, you are expected to function at a reasonable level. Unfortunately, laboring through the night can wreak havoc on your body, weakening your immune system and causing a destructive decrease in energy. It's difficult for the body's internal clock to adapt to shift work, and laboring through the night often causes insomnia and indigestion. It becomes even trickier if you have to switch between day and night shifts. So, if you are one of the millions of people that work the third shift, check out our healthy tips to combat the damage it can do to your body.

Sleep
It's often the hardest element to "get right" if you are working late. Your body is ready to crash halfway through the shift, but when you return home your family is up and about. Spending quality time with them often stands in the way of enough sleep, and it's almost impossible to choose between the two. What can you do?

Sleep is one of the most important gifts you can give your body. But you are fighting your body's natural sleep-wake cycle by staying up through the night, and sleep loss can be dangerous. Even if you are sleeping during the day instead of the night, you still need an average of eight hours to keep your body functioning properly. It's important to make this a continuous eight hours, too.

Often, third shift workers break up their sleep in order to spend more time with loved ones and do activities that they enjoy. Of course, this is key to a happy life and positive relationships, but it keeps your body from going through the proper sleep cycles, rotating from light to deep sleep. If you are sleeping for a few hours in the morning and then an hour or so before work, your body will not be rested enough and ready for the next shift.
Continued ›
Article created on: 6/10/2004