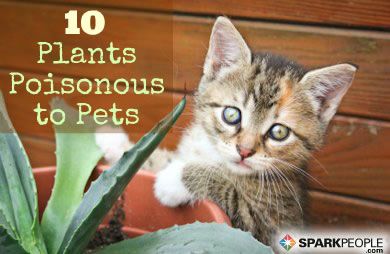 We all know that our pets are curious creatures and can often find their way into things that aren't intended for them. Houseplants can provide a tempting snack option to some dogs and cats, particularly those that like to chew on things or graze. However, many plants are poisonous to pets and, if ingested, can cause symptoms ranging from mild irritation to death in extreme cases. Dealing with a pet that has been poisoned is scary and can quickly land your dog or cat in the veterinary clinic for detoxification measures and supportive care (or an even worse fate).

As a responsible pet owner, it's your duty to familiarize yourself with the safety of the plants in and around your home as well as what to do in the event of ingestion. Here is a short list of some common poisonous plants and what you should do if you suspect your pet has gotten into one.


Azalea
The azalea, also known as rhododendron, is a flowering shrub that is harmful to both dogs and cats if ingested. The toxic element of the azalea, grayantoxin, disrupts nerve and muscle function. Signs of intoxication can range from oral irritation (usually recognized by pet owners as excessive drooling or pawing at the face or mouth) to vomiting and diarrhea, muscle weakness or even sudden collapse and death in severe cases.







English Ivy
English ivy, also known as California or sweetheart ivy, is another common indoor decorative plant that can be toxic to dogs and cats if eaten. The toxin responsible for the ill effects seen with English ivy ingestion is a triterpanoid saponin. Saponins are chemical compounds known for their characteristic foaming quality and, while not all are toxic, the dangerous ones can lead to irritation of the mouth and gastrointestinal tract when consumed. Symptoms of intoxication from English ivy can include abdominal pain, vomiting and diarrhea or excessive salivation.




Aloe Vera
Aloe vera, a houseplant popular for its wide variety of medicinal uses, is surprisingly toxic to pets. Saponins are also the causative agent involved in aloe toxicity. The toxic parts of aloe vera are limited to the skin and inner layers of the plant, rendering the gel inside relatively harmless. Ingestion of the leafy portions of the plant can cause vomiting, diarrhea and even tremors in dogs and cats.

Continued ›
Article created on: 10/3/2013