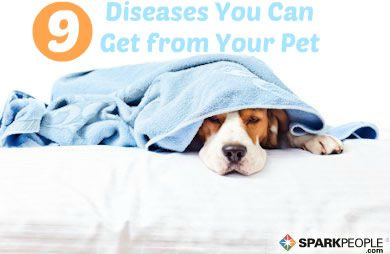 We all love our pets, but the fact of the matter is they can make us sick if we're not careful. Virtually all animals carry diseases that can be harmful to humans. With so many potential diseases, it's important to know which ones you need to be concerned with so you can take the proper steps to safeguard yourself and your family. Below are some of the most common conditions you can catch from your dog or cat (and a few of the ones you don't need to worry about). By arming yourself with some key knowledge and following a few basic principles, you can live happily and healthfully alongside your pet without having to wonder, "Can I catch that?"

What is a Zoonotic Disease?
A zoonotic disease is one that can be transmitted between animals and humans. These consist of diseases spread by bacteria, viruses and parasites, to name a few. Common routes of infection include direct contact or accidental ingestion of infected feces or urine (often from a contaminated water source but this can also occur from being in close contact with your pet without practicing proper hygiene). Contact with your pet's saliva (such as receiving a faceful of puppy kisses) or the bite of an infected animal also can lead to infection from certain diseases.

Can I Catch My Dog's or Cat's Cold?
I often get questions from clients wondering whether they can catch their dog's or cat's cold or flu. In short, the answer is no. Airborne infections such as kennel cough or feline upper respiratory disease, while highly contagious among dogs and cats, respectively, cannot be transmitted from your pet to you. Likewise, your dog is not susceptible to catching your cold. The same goes for the flu. To date, there have been no recorded cases of canine influenza spreading to humans nor have there been any reports of human influenza spreading to dogs. Lice infestation is another problem that is often wrongfully blamed on pets. Contrary to popular belief, lice are very host-specific, and dogs and cats do not play a role in the transmission of human lice.

9 Common Zoonotic Diseases
Here are some common zoonotic diseases you should watch out for (a comprehensive list can be found at www.cdc.gov):

Giardia: Giardia is a parasite that causes diarrhea in people and animals. People can acquire infection from giardia by consuming water that is contaminated with infected feces. People with weakened immune systems are most susceptible to infection with giardia.

Continued ›