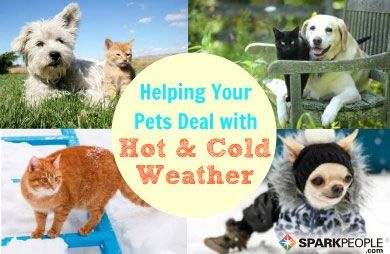 My thick-coated mixed-breed dog, Jack, loves to play in the snow. He's happy to romp around an icy park for an hour and only stops when the fur between his toes is matted with chunks of ice. He loves the park in the spring and fall, as well, running at top speed, and only taking breaks to grab a quick drink of water. But in the middle of summer, he'll only play for a few minutes before seeking out some shade to rest.

I pay careful attention to his energy level and enthusiasm, especially on cold or hot days. If he shows any signs of fatigue or distress, I take him home immediately. It's easy to think that, as animals, our pets are always perfectly happy spending lots of time outdoors. In reality, they're very much like us: domesticated creatures that are accustomed to spending most of their time in a temperature-controlled environment.

Cold-Weather Tips for Dog Owners
Unlike Jack, most dogs will let you know when they're ready to come in from the cold, but you should play close attention to your pets on winter walks to make sure they're staying warm enough. For short-haired dogs, consider providing an insulated jacket or sweater, especially if they're prone to shivering after a short time outside.

To keep them comfortable if the thermostat is programmed to go down during the day, provide a self-warming crate pad or blanket for them to snuggle under. And at bedtime, let them cozy up to a microwavable heating pad to add a little extra warmth to their sleeping spot. If your pet spends a considerable amount of time outdoors, make sure he or she has access to adequate shelter. A dog house with a heated bed is the most reliable solution, but even clean, dry straw can help your pet stay warm. (Remember, always adhere to manufacturer's instructions when using any electronic heating device. Any device has the potential to malfunction, so they should be used with caution whenever your pet isn't under your direct supervision.)

Access to clean water that won't freeze is the most crucial cold-weather care tip. Use a heated pet bowl to make sure your dog doesn't try to drink from puddles that have been contaminated with oil or antifreeze.

Other winter dangers that dogs face include:
Salted roads and sidewalks can be rough on a dog's feet and cause them to bleed. Licking the substances off his feet can also make your pet sick. Always be sure to clean your dog's feet when you get home from a walk or you can try special dog boots to provide extra protection.

Cold can aggravate arthritis, making slippery steps even more treacherous for older dogs. Watch your pet carefully and stay close by in case he needs assistance.

If you use a space heater, make sure the outside doesn't get hot enough to burn your dog. Choose a model that will turn off automatically if overturned.
Continued ›