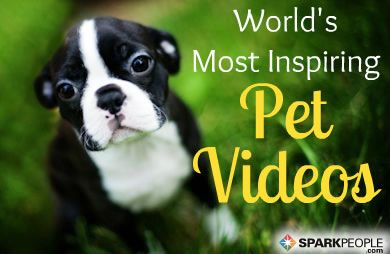 Some animals face tough obstacles from Day One, like the dog born without front legs or one born without sight. Others demonstrate a sense of loyalty that knows no bounds, like an elephant that befriends a mutt. Still others survive and thrive in the face of harrowing circumstances, like ducks crossing a busy highway or a dog who survives for weeks at sea. From the tamest of domesticated animals to the wildest of wild, these inspirational animals are practically guaranteed to bring out the human in you. Be warned: Have a tissue (or three) handy.

Summer the Sheep
After losing the use of her back legs, no one lost faith in Summer's recovery. Fitted with a wheelchair on her back legs, Summer the Sheep needed some encouragement to walk. But she was soon rolling around like an old pro in her wheelchair. Although it turned out that she had an incurable disease, Summer's ability to regain some strength in her back legs and frolic around the farm show that with the right attitude, anything is possible!






Wallace the Wonder Dog
"Wallace the Pit Bull," a rescued American Pit Bull Terrier, showed the world that pit bulls aren't inherently bullies. Taken in by two caring pup parents, Wallace was trained to put his energies into becoming a disc champion, competing—and winning—many flying disc competitions and being an ambassador for a largely misunderstood breed. He recently passed away after being diagnosed with two terminal cancers, but his legacy lives on in his ability to open people's minds to the idea of saving shelter dogs and pit bulls.






Pig on Wheels
Chris P. Bacon was adopted by the vet who was asked to euthanize him after he was born with a defect that stunted the growth of his rear legs The vet brought him home and taught him how to use a dog wheelchair. The adorable pig now lives as a happy pet and takes full advantage of his second chance. Everyone deserves a shot at happiness!






Ray Charles the Golden Retriever
This dog is a force to be reckoned with. No, he doesn't play the piano like Ray Charles, but he is blind. And like his namesake, he doesn't let that stop him from living life. According to his Facebook page, Ray Charles was born blind, but he runs and plays with three brothers and a sister just like any other dog. Written from the dog's perspective, the Facebook page says that Ray Charles believes he was born this way so that he "could help inspire others who are born with physical/mental disabilities to always live their lives to the fullest and do as much as they can with what they are given." Words of wisdom from a young pup.


Continued ›
Article created on: 8/28/2013