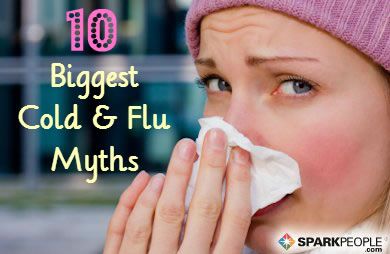 Eat chicken soup. Bump up your vitamin C intake. Don't step outside with wet hair. Each year as cold and flu season approaches, you probably hear these common tricks for avoiding illness. However, not all of the prevailing wisdom about viral infections stands up to science. Keep reading to get the facts about 10 of the most common misconceptions about colds and the flu.

Myth #1: Going outside in the winter can cause a cold.
Your mom might have warned you about running off to school with damp hair or heading out for weekend fun without a warm coat. Many people still believe that you can catch a cold just by being cold. However, you can only get a cold or the flu by being exposed to those viruses. Mere exposure to cold temperatures won't cause an illness.

So, why are we more likely to be sick in the winter? Researchers have offered various reasons, from the increased proximity to other people (everyone goes inside when it's cold outside) to drier air, which might make our mucus membranes less resilient to viruses.

Myth #2: Mega doses of vitamin C can stave off a cold.
At the first sign of a scratchy throat or runny nose, many of us have been taught to grab citrus fruit or vitamin C supplement. Water-soluble vitamin C is cheap, easy to find and a common additive to everything from breakfast cereals to fruit snacks to sugary juices.

However, the validity of vitamin C as a treatment for a cold or as a way of preventing colds is controversial. Some studies have found that vitamin C reduces the duration of colds and lessens symptoms; others have found no evidence for the salutary benefits of vitamin C.

While it won't hurt to temporarily increase your vitamin C intake, too much vitamin C can cause abdominal cramps, heartburn, diarrhea and even kidney stones. If you're consuming a gram or more of vitamin C a day, check with your physician.

Myth #3: The flu is a more severe form of a cold.
Flu symptoms might be more severe than cold symptoms, but these two illnesses are caused by different viruses. A high fever, headache and muscle aches are more common with the flu, as is tiredness, while a stuffy nose, sneezing and sore throat are more common with a cold. A productive cough is also more common with a cold.

Myth #4: Antibiotics will make a cold or flu symptoms better.
Antibiotics can treat bacterial infections, but they won't address the core cause of a cold or the flu. In fact, taking antibiotics when you don't need them promotes antibiotic resistance, a phenomenon in which bacteria overexposed to antibiotics become more able to survive exposure to them. This can mean that antibiotics don't work when they're needed.

Because a bacterial infection can sometimes arise as a result of the flu, it doesn't hurt to check with your doctor if you're short of breath, have chest pains, experience a fever above 103 degrees or pass out. Still, a simple cold or flu virus won't respond to these medications.
Continued ›