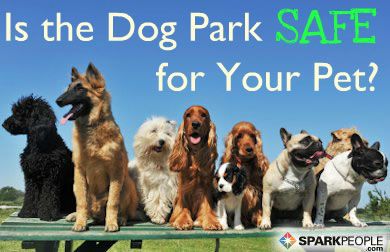 If your pet is well-socialized and enjoys playing with other animals, a trip to the dog park is a great way to help him get some exercise and meet new four-legged friends. But before you head out the door there are several rules and precautions to consider because the dog park isn't for every owner—or every dog.

Before You Visit the Dog Park
Because you have no way of knowing the history of the other dogs, it's imperative that your pet be fully vaccinated, which means that puppies should not visit dog parks until they have received all their shots.

If you're not sure how your dog will behave around strange animals, the dog park is probably not the best way to find out. Introduce your pet to dogs owned by friends or neighbors in a controlled situation, such as a fenced-in backyard, first. If he handles this closely supervised playtime well, you can be more confident about taking him to the park to be around dogs he doesn't know—and more of them.

You Probably Shouldn't Visit a Dog Park if Your Pet:
Shows signs of aggression or dominance with other dogs

Is unpredictable around other animals

Has a high prey drive for smaller animals

Doesn't always come when called when distracted or excited

Is fearful in busy or new situations or around strange or large
numbers of animals

Has never been "vetted" as safe for doggy daycare

Can jump fences

If you don't feel comfortable reading and interpreting the body language of dogs
Your First Trip to the Dog Park
On your first visit, keep your dog on the leash and give him a tour of the perimeter. Let him sniff the fence and greet dogs through the fence. If he seems calm, you can take him in. If he shows signs of fear, high levels of excitement or aggression, today isn't the day to enter the fence. If there are other dogs crowding the entrance, wait until they disperse to go inside. If there is a separate fenced entry area, take your dog off the leash before allowing him to enter the park. A leashed dog in a pack of free dogs creates an uneven balance of power that can make your dog a target for aggression.
Continued ›
Article created on: 8/12/2013