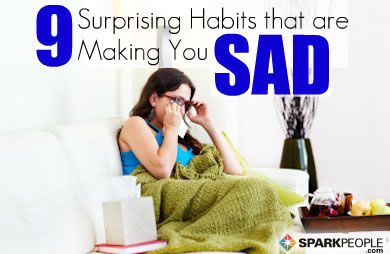 We're all familiar with the scene: The lead female character is sprawled on the couch in her apartment, sobbing in front of the TV, watching a heart wrenching movie, dressed in PJs, sipping wine and eating Ben & Jerry's straight from the container. The answering machine is blinking with unanswered calls. When the main character is male, he's strumming his guitar, singing a sad love song, unshaven and disheveled, with empty bottles of beer and pizza cartons scattered around the room. His mobile phone is vibrating from all the ignored text messages he's received.

The familiarity of the scene may make you chuckle or perhaps even relate. We've all been there. At some point or another, we've experienced loss, disappointment or depression that left us wanting nothing more than to be alone, wallowing in our sadness and licking our wounds.

There is nothing wrong with taking some time out when life throws you a curveball. Whether it's the loss of a job, opportunity, loved one, relationship or anything else we've cared deeply about, the empty void results in sadness. Everyone will experience it at one time or another; it's part of the human condition.

It's important to acknowledge and experience emotions of sadness and grief, but if we continue behaving like the main characters in the examples above for too long, a tough time can turn into a clinical depression that's hard to shake.

Here are several common patterns people fall into when they're down that only make their blues worse.

9 Behaviors That Only Worsen Your Blues

1. Denying your feelings. Trying to pretend that everything is OK, when it's anything but, is stressful and energy draining. I'm not suggesting you tell everyone you know that you're going through a tough time; there is something to be said for putting on a smile when it's needed. However, it is healthy and wise to acknowledge your feelings, accept that it is OK to feel that way and give yourself the chance to experience the emotions at hand. Many find comfort in journaling or confiding in a trusted friend, colleague or family member. Sometimes telling someone else how you feel is a good step in acknowledging that it's real—instead of always putting on a brave face.

2. Isolating yourself. When we are hurting, there is a tendency to want to withdraw socially and spend more time alone. Brief periods for contemplation and crying are part of the process, but extended periods of isolation will not help you heal. According to Shawn Achor, researcher and author of The Happiness Advantage, too often when we are feeling stressed, overwhelmed or in pain, we pull inward—away from family, friends and social support. But this is when we need support more than ever. Depressed individuals who maintain social relationships during difficult times recover sooner and experience less chances of recurrence. Religious rituals like holding a wake or sitting Shiva are done because of the importance of being surrounded by those who care and love us when we have experienced loss. Even if you don't feel like it, force yourself to go out, socialize and be with others. You may be surprised at how much better you feel when you do—even if you're not in the mood for it at the start.

Continued ›
Article created on: 8/2/2013