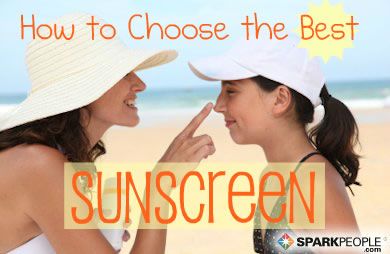 It's hot. The sun is beating down on your face and back. You feel your skin starting to cook and know that if you don't head for shade or reach for sunscreen quick you'll end up looking like a boiled lobster tomorrow. But what sunscreen should you choose? Now it seems there's at least half an aisle in every grocery or drug store dedicated to different sun protecting potions. SPF 15? 30? 100? Mineral? Chemical? Spray? Cream? Waterproof? Long-lasting? What does it all mean and what is going to work best for you?

Finding the right sunscreen to fit your lifestyle is important and can protect you not only from annoying sunburn and premature skin aging, but also from skin cancer which, according to the EPA, is the most common form of cancer with more than 1 million people diagnosed in America each year.

A Few Burning Facts

There are two types of ultraviolet (UV) radiation emitted by the sun that penetrate the ozone layer and affect the skin: UV-A rays and UV-B rays. UV-A rays get into the skin and contribute primarily to premature aging. UV-B rays mostly affect the surface of the skin and are the primary cause of sunburn.

There are two types of sunscreen: chemical and mineral. Chemical sunscreens work by absorbing UV rays, which are then released as a small amount of heat. Mineral sunscreens (which can be called sunblock) typically contain zinc oxide or titanium dioxide. These tiny mineral particles act as microscopic mirrors spread across the skin and reflect the UV rays.

A quick look at the active ingredients listed on the back of product packaging will help you determine whether the sunscreen is chemical or mineral. Some active chemical ingredients are avobenzone, octocrylene and octinoxate.
Simplifying SPF
There is a lot of attention paid to the number that follows "SPF" on sunscreen packaging, but you may be surprised to realize that the difference between SPF 15 and SPF 100 isn't nearly as drastic as you may think. "SPF" stands for Sun Protection Factor and addresses how long you can be exposed to the UV-B rays that cause sunburn. Everyone's skin has a natural SPF, which hinges on how much melanin your skin contains, and directly correlates with the darkness of your skin. "SPF" is technically a multiplication factor. More specifically, if you can stay out in the sun for 15 minutes before burning, a sunscreen with an SPF of 10 would ideally allow you to stay out for 10 times 15 minutes, or an hour and a half.

Continued ›
Article created on: 7/10/2013