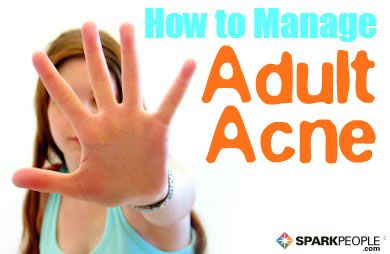 Acne is the most common skin condition in the United States--one that doesn't solely affect teens and those in their early 20s, either. In fact, clinical acne cases in adult women between the ages of 40 and 49 (and beyond) have been on the rise in recent years. Yes, adult men can also be acne prone, however, the number of women who suffer from acne in adulthood is staggering in comparison to that of their male counterparts.

If you suffer from adult acne, you know that it's not just the occasional pimple we're talking about, here. We're talking deeper nodules, cystic acne and other severe, clinical acne types that can eventually cause scarring to the outer layer of your skin, and to your self-esteem.

One common adult acne myth is that it will eventually go away on its own. But trained dermatologists will tell you that without proper acne treatment, your skin could suffer even more. Thankfully, there are many effective treatment options available for adults who are prone to breakouts.

But what exactly is adult acne, anyway? The following information will help you determine common causes and types of adult acne, plus top-notch ways to treat those stubborn bumps effectively.

Common Causes of Adult Acne
The acne you develop as an adult is typically far different from those embarrassing pimples you dealt with as a teenager. However, whether you're 15 or 50, acne develops when a mixture of excess sebum, skin cells and bacteria accumulate. But adult acne can also result from one or more of the following factors:
Fluctuating hormones. When hormones fluctuate, acne can surface. Hormonal swings can occur throughout your menstrual cycle, pregnancy and menopause.

Going off the pill. Because hormones in birth control pills can keep acne away, when you stop using them, your skin can often break out big time.

Certain medications. Anticonvulsants, corticosteroids and some sobriety drugs can cause adult acne. If this happens, consult your doctor and see if there is another medication you can try in order to take control of your breakouts. Never stop taking any prescription medication before speaking with your doctor. If there is only one type of medication available for your condition, head to the dermatologist to see if there is something else that can help you get your acne under control.

Genetics. If you suffer from adult acne, chances are, your mom, dad, brother or sister have had to deal with this skin condition as well.

Anxiety and Stress. Research shows that women who subject themselves to stressful, fast-paced jobs are more likely to develop acne than those who stress less. When you stress, your body produces an excess of androgens, hormones that stimulate your skin's oil glands and hair follicles, which can then result in acne flare ups. Get your stress under control with these yoga exercises.

Continued ›
Article created on: 7/8/2013