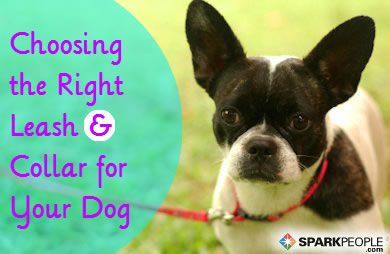 When you bring a dog into your life, along with a water and food bowl, the first things you'll need to buy are a collar and leash. Most cities have laws about keeping dogs on leash when they're outside of your house or yard. But even if your hometown doesn't have a leash law, your pet will be safer if you keep him under control. Even the best trained dog can get distracted by a squirrel or cat and run into a busy street.

Collar Basics
For the most part, an everyday dog collar is a matter of taste and comfort. You can choose leather, nylon or cotton in any color or design you like. But every dog should have a comfortable collar that they wear at all times. The collar should include a tag with your contact information in case the dog ever gets out of the house or escapes your control on a walk. Depending on where you live, your dog might also be required to wear a license that you renew every year, as well as a tag showing that he's been vaccinated for rabies.

To choose the right-size collar, wrap a flexible measuring tape around the base of your dog's neck. It should be loose enough that you can slip two fingers underneath the tape. Note the measurement so you can pick the right size online or at the pet store. Most collars are adjustable through a range of several sizes, so even if your dog gets a haircut, the same collar should still fit.

The width of the collar will depend on the size and strength of your dog. Most collars will include information about width vs. dog size. Typically, collars are available in 3/4-inch, 1-inch and 1 1/2-inch widths. But you can find wider collars for strong dogs. The bigger the dog, the wider the collar should be for both comfort and control.

Certain breeds whose heads are narrower than their necks (particularly greyhounds and whippets) will need a special collar called a Martingale that tightens when they pull on it. Otherwise, they will slip right out of a regular collar.

Harnesses
For dogs that pull, it can be tempting to put them in a harness instead of using a traditional collar. A harness will relieve the pressure that a collar puts on a dog's neck, which is perfect if the animal has a neck injury or breathing problems. Otherwise, a standard harness can actually train the dog to pull more. If your dog doesn't know how to walk beside you on a loose leash, there are many tools you can use to help him learn this behavior.

Continued ›