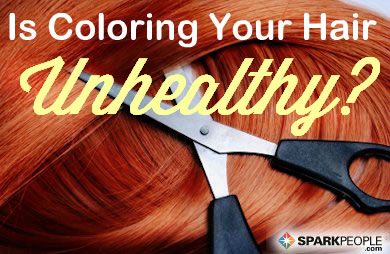 We all know that looking our best can go a long way toward feeling our most confident. And if you're like many women, you also know that a new style and hair color are both great ways to refresh your overall look. While you probably think about the time, energy and money that goes into having your hair colored, you might not consider whether or not color is unhealthy for you or your hair. And if you dig deep enough into research on the topic, you'll find that there is a lot of conflicting information out there about the potentially negative effects of hair dyes on your hair and your body. Here, we'll try to cut through the clutter and address a few myths, considerations and alternative options to help you figure out what's best for your own health when it comes to hair color chemicals.

What's that smell?
We've all breathed it in it at some point when walking into a salon... that nose-scrunching, chemical smell that tends to make our eyes water. That smell means there is some permanent hair coloring going on in your local beauty shop--and it helps to understand what's in those dyes and exactly how the process works. At the risk of sounding like Bill Nye the Science Guy, here's a closer look at how hair color and chemical dyes work. (Don't worry, there won't be a pop quiz!)

Hair is made up mostly of keratin, a protein found in our fingernails and skin, too. The color of your hair is made up of one of two other proteins: eumalanin, if you have brown or black hair, or phaeomelanin for blonde, ginger and red hues. The absence of these two proteins results in hair that's gray or white.

Women and men alike have been coloring their hair for thousands of years using natural pigments like henna, or shells from walnuts. These natural pigments coat the shaft of the hair and typically rinse off after just a few washes.

Temporary or semi-permanent hair dyes coat the hair with acidic dyes or consist of tiny pigment particles that slip inside the hair. These will eventually wash out with shampooing. Also, because the hair isn't opened up in these processes, the natural color of the hair will remain underneath the new hue.

Lightening is achieved by using bleach or hydrogen peroxide. Bleach oxidizes the color proteins in the hair leaving them colorless. The catch is that this process is irreversible and can result in some unnatural, odd colors. More often, hydrogen peroxide is used in an alkaline solution that opens up the hair cuticle and allows the peroxide to react with the color protein.

Continued ›
Article created on: 5/17/2013