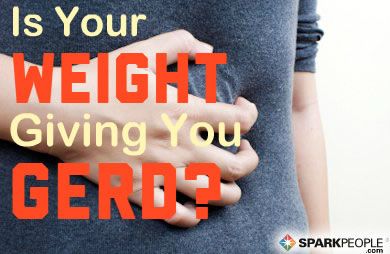 It's common knowledge that eating spicy foods or even being pregnant can result in heartburn for many people. But when heartburn or acid reflux becomes a chronic problem—the cause is often something more than the buffalo wings you had a dinner. In some cases, being overweight may be to blame.

Some studies have shown that one of the major risk factors for chronic heartburn or gastroesophageal reflux disease (GERD) is having a body mass index greater than 30 (in the obese range). GERD occurs when the lower esophageal sphincter (LES), located at the bottom of the esophagus and just above the stomach, fails to close after you eat. This allows food and stomach acid back into your esophagus, which causes that familiar burning sensation, chest pain or difficulty swallowing known as heartburn. It can disrupt your sleep, leave you in pain and eventually lead to esophageal cancer, if left untreated.

A 2012 study published in the World Journal of Gastroenterology documented "that both the severity and frequency of heartburn had a positive correlation with BMI," meaning that the higher one's BMI was, the more severe and frequent their heartburn symptoms were. Another study published in the Journal of Clinical Gastroenterology showed that "in patients with GERD, high BMI was associated with more severe erosive esophagitis [irritation and swelling of the espophagus]," as well.

Despite these correlations between BMI and GERD symptoms, researchers aren't exactly sure how obesity plays a role or whether it directly causes GERD (in the absence of other risk factors). The theory is that overweight and obese individuals have excess body fat in the abdomen, which pushes against the stomach, forcing acid up into the esophagus and sometimes into the back of the throat, especially when people are trying to sleep. What we do know for sure is that obesity increases the risk of many other related conditions that can lead to heartburn.
Continued ›
Article created on: 4/26/2013