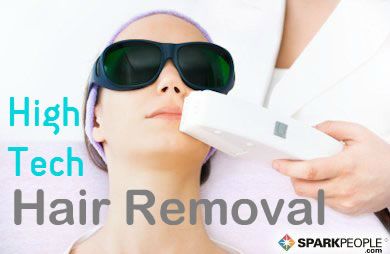 Common hair removal methods like shaving and waxing may be easier when it comes to the short-term, but these options of removing unwanted hair aren't exactly the most convenient. Many women must make time to shave every day in order to keep their skin smooth and free of stubble. And those who turn to waxing over the course of many years can pay a hefty price tag by heading to the spa each month for hair removal services.

The good news is that you can avoid razor burns, painful waxing, and eventually save time and cash by turning to some high-tech hair removal techniques. In the long run, these three methods will help you ditch the razor and reap the rewards of smoother skin that lasts much longer than shaving or waxing.

High-Tech Hair Removal Option #1: Laser Hair Removal

How does it work?
Laser hair removal is a fairly common cosmetic procedure that points highly concentrated, pulsating beams of light into hair follicles to destroy hair at the root. Because the heat is so intense, the laser damages the hair follicle which, in turn, hinders hair from growing in the future. This hair removal technique can effectively slow down hair growth practically anywhere on the body, but works best on thicker-skinned areas like the legs or back. And, though this method won't guarantee permanent hair removal, hair that does end up growing back will be lighter, finer and a lot less noticeable.

If you decide to try this hair removal method, know that you'll need to head to the dermatologist's office for several treatments (six to eight visits typically do the trick) in order to provide yourself with extended periods of smooth, hair-free skin. You can even purchase laser light hair removal devices at many retail stores for at-home use between visits. Just make sure you get your dermatologist's expert opinion before you buy in order to rule out any pre-existing skin conditions, or other possible issues that could stand in the way of a safe at-home treatment.

Who should try it?
Laser hair removal is perfect for people with pale to light skin and dark hair. This is because the light from most types of laser hair removal devices targets the pigment in the hair. Does this mean you should shy away from laser hair removal if you have darker skin? Not necessarily. Talk to your dermatologist about other options involving lasers with longer wavelengths as certain ones have the ability to treat darker skin types.

Continued ›