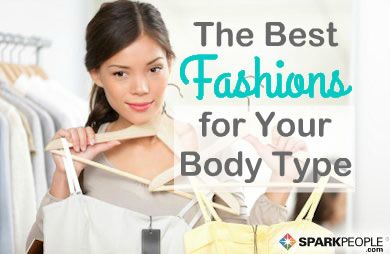 Fashion comes and goes, but style is timeless. The best way to always look your stylish best is to learn which silhouettes flatter your body type. When you highlight your assets, you'll feel more confident and your beauty will radiate from within. So whether you've recently lost weight or just want to update your wardrobe for a fresh, new look, read on for some shopping rules that will make your trip to the mall fun and successful.

How to Figure Out Your Body Type
To figure out what type of body you have, stand in front of a full-length mirror. Imagine drawing a line around yourself on the glass. What shape is left behind? Most women are one of 4 common body types: pear, apple, hourglass or rectangle.

Your Body Type: Pear Shape
If you have a smaller bust and arms, a well-defined waist and tend to carry weight in your hips, butt and thighs, you're probably a pear shape. This body type is the most common, so it should be easier for you to find clothing that flatters your figure! When dressing for a pear-shaped body, you should try adding a bit more volume up top by choosing pieces that minimize your bottom half to help balance everything out.

What to Wear: Draw attention away from your extra-curvy lower body by highlighting what you've got from the waist, up. You can do this by choosing jeans and trousers that are darker in color, and pants with lower, thicker waistbands to help minimize your bottom. In order to visually add more weight to your bust, shoulders and arms, look for tops that are slightly A-line with details like stripes, polka dots and other eye-catching embellishments. A sweetheart neckline is also a good bet because it will enhance your bust, drawing the eye upward. Low-slung tunic tops are also great for pear shapes! These trendy tops minimize the look of wider hips. Scarves and belts are also good accessories for you, but make sure you wear them just below your natural waistline in order to create a look of more weight on top as well.

What not to Wear: Pear shapes should avoid faded jeans as they bring more attention to the hips, waist and butt. Tops that cling to your body tightly may sound like a good idea since they accentuate your smaller top half, but they'll also make your bottom half look even bulkier--so skip them! You should also minimize any attention-grabbing details on your pants, like extra pockets and big prints. Pockets and busy patterns create the look of additional weight, which will result in your body looking disproportional.

Continued ›
Article created on: 4/15/2013