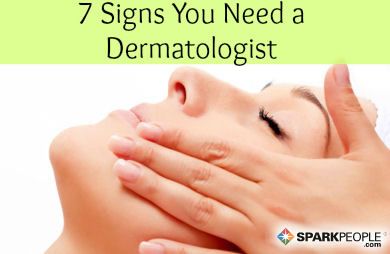 If you've never really had a severe problem with your complexion (making your friends green with envy), then consider yourself pretty lucky. Soap and water have always done the trick for you, so you're probably well past the age of needing to see a dermatologist, right?

Well, not so fast.

While many people think of dermatologists as "acne doctors," that's only one small part of what these skillful experts can do for our health. In addition to treating acne, dermatologists care for a wide range of diseases and cosmetic problems related to not just the skin, but the scalp, hair and nails as well. It's never too early (and at times, never too late!) to see a dermatologist either; in fact, just about everyone can benefit from paying a visit to this type of medical specialist.

You already take care of your body by committing to a regular fitness routine, eating healthy food and participating in other healthy habits, so naturally, you should be taking the best possible care of your body's largest—and most visible organ: your skin.

Still not convinces that you should see a dermatologist? Here are seven important ways a visit to the dermatologist could benefit you.

Chronic Skin Conditions
Do you have itchy, red or flaky skin? Are over-the-counter creams and lotions just not working? You may think that the cause of your dry skin is the weather, sensitivity to skincare products or even genetics, but in reality, you could be suffering from a chronic skin condition such as eczema or psoriasis. These skin conditions (and a slew of others) can be treated effectively while under the care of a dermatologist. Prescription-strength moisturizing lotions and steroid treatments are often prescribed to help relieve itchiness and minimize redness. Though these strong medicines can help you feel more comfortable in your own skin, they will not cure this type of skin ailment. At times, both eczema and psoriasis can go away without treatment, but until that happens, don't suffer. Get the relief you need by making an appointment with a dermatologist if you are experiencing these symptoms and they aren't going away on their own.

Annual Skin Cancer Screenings
Did you know that skin cancer is the most common type of cancer? According to the American Cancer Society, more than 3.5 million people are diagnosed with skin cancer each year in the United States alone—that's more than all other cancers combined! And, like all cancers, early detection is essential for the best prognosis and treatment. Adults are advised to visit their dermatologist each year for an annual skin cancer screening in order to not only detect the presence of the disease, but possibly even prevent it.

Continued ›
Article created on: 3/4/2013