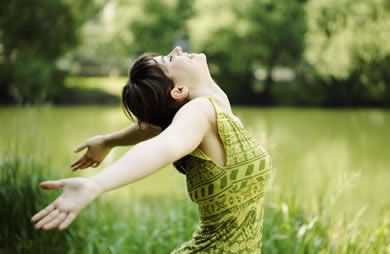 One of life's biggest ironies is how often people complain about their circumstances, yet rarely do anything about them. It's not that they don't have good intentions, or the desire for change isn't great. It's that change is scary and risky. Even when we're unhappy with our current situation, we are familiar with it. Change is just so unknown!

For this reason, we often miss opportunities, even when they are staring us right in the face. Let me share with you a story about my client, Laurie. Frustrated and burnt out from a very stressful job, Laurie found herself with little energy or time to work on her wellness goals.

Working in the face of constant deadlines led to lots of eating on the run, convenience foods and stress munching. Extraordinarily long hours made getting to the gym difficult. The only enjoyment Laurie got from her work was the huge paycheck she received at the end of the week. Of course, she had no time to spend it on entertainment or shopping. Although her savings was growing, her happiness was declining rapidly.

The one bright spot in Laurie's week was the volunteer work she did with underprivileged children on Saturday mornings. Despite the hectic schedule she kept, she never missed that appointment. She also served on the organization's board, made it to every meeting and did all the bookkeeping for them.

I was fascinated that although she complained about having too much on her plate, Laurie never entertained the idea of giving up her volunteer work. It was the one place she got to use her strengths, forget her daily concerns, and have fun!

Laurie and I began coaching around the idea of looking for another job. As so many others, Laurie had a vision of a better way, even a clear picture of what she would need to get there, but she was so often frozen in her progression. At times, she was desperate to switch gears, and yet sometimes ambivalent about making the change.

The more we talked about it, the more her confusion and worry mounted. What if I can't find a job that pays as well as this one? Could I make do with less? What if I think the new job sounds great, and it turns out to be just as stressful as this one? "What ifs" were keeping Laurie exactly where she was--except now, on top of everything, she was feeling frustrated and annoyed at herself for being "too scared" to try something new.

Continued ›
Article created on: 4/24/2012