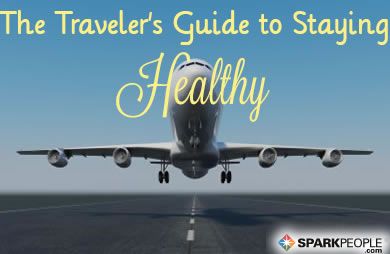 Fitting in fitness, eating well and having the time to relax and rejuvenate can be an overwhelming quest for anyone—and if you add business travel to the mix, it may even feel impossible.

However, if traveling for business is part of your routine, it is imperative that you do everything possible to adjust your health habits when on the road. A recent study conducted by researchers at Columbia University reviewed the data on 13,000 people who were part of a corporate wellness program. Researchers found that traveling for business was linked to an increase in health risks such as obesity, high blood pressure, and elevated cholesterol levels. What's more, the more nights a worker spent on the road, the greater his or her risk became.

Traveling alone isn't necessarily linked to these health risks. But the long periods of inactivity (including downtime at the airport and extended days without a trip to the gym), decreased sleep (whether due to difficulty sleeping in a different environment, late nights or changes in time zones), increased stress, and dining out on fattening foods are the real problem. But you are not doomed to gain weight or become unhealthy because you travel for work. With a little creativity, you can still take care of yourself while you're away from home—no matter how often you may travel. But it takes a firm commitment to self-care and some proactive planning.

Here are some ideas that work well for me and many of my professional clients who frequently travel.

Plan ahead to have healthy foods and snacks for traveling. If you are flying to reach your destination, don't depend on the airport and airplane food. Bring your own sandwiches, salads and/or portable healthy snacks as often as possible, or choose wisely in the airport. Check with your carrier in advance and if available request low-cal, low-fat and low-cholesterol choices.
Continued ›
Article created on: 12/6/2011