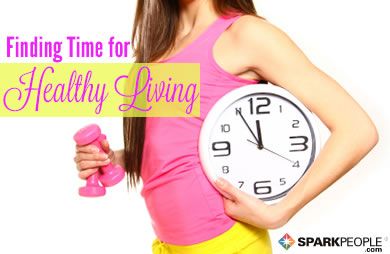 You've made the decision to get in shape, lose weight or just live a healthier lifestyle. But you're worried about how you'll manage to find the time to get to the gym, shop and cook healthy foods, or even how you'll keep your goals in mind with so many other things already on it.

Your concerns are certainly valid. As a matter of fact, one of the most common statements I hear from colleagues and friends is, "When things calm down, I really need to start taking better care of myself." Here's the thing: If you are living a full and happy life, it is more often busy than not. And when you have so much to do, doesn't it make sense to take care of yourself and feel well?

There's no debating that you will need to dedicate some time to self-care, but it shouldn't mean you will have to drop your friends, ignore your family or neglect your business. Here are some suggestions of how to create more time for healthy living.

Eating well for good health and/or weight loss requires you to have nutritious foods available and make wise choices when eating out. Here are some ways to make the most of your meals when you're short on time.
Take a few minutes at the beginning of the week to think through your upcoming schedule. How many days will you be home for dinner, and what will you prepare? Do Monday morning meetings always last through lunch? If so, it makes sense to bring a brown bag lunch that day. Will you head to the gym straight from the office and need to bring a healthy snack to fuel you through your workout and hold you over until dinner? Once you have a picture of your week, create your grocery list and plan when you'll head to the store. This extra step will save you tons of time by avoiding multiple trips to the market, or standing in line at the take-out eateries on your way home.

At the market, consider purchasing healthy convenience foods. There are so many to choose from these days. Fresh vegetables, salad greens and fruit are available pre-cleaned and cut. Old-fashioned frozen dinners have been recreated to be low-cal, low- sodium, even vegetarian or gluten-free. Check the labels and know which ones to keep in your freezer for nights when you don't have the time to cook. Although you may think these options cost more, they are less expensive than eating in restaurants, buying take-out, or high blood pressure and high cholesterol medicines that often are required after years of unhealthy choices.

Continued ›
Article created on: 8/30/2011