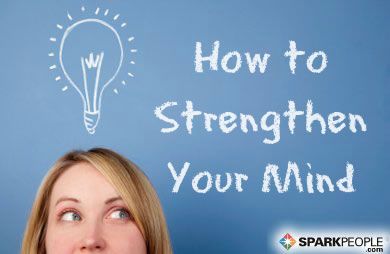 When you work out, a few things probably run through your mind: changing your body composition, burning calories, building more muscle and strengthening your cardiovascular system. But did you know that there is one body part that most of us neglect to think about in terms of exercise? This specific organ helps you do, well, everything! What is it?

Your brain.

Researchers have much more to learn about the brain, but over the last decade scientists have learned quite a bit about the effects of exercise on the brain—both physical and intellectual. It turns out that by exercising regularly and "training your brain," you can boost your brain power just like physical activity can strengthen your muscles.

The Link Between Working Out and Brain Power
One study published in Proceedings of the National Academy of Sciences found that regular sweat sessions can increase the size of a region of the brain called the hippocampus—a part of the brain that begins to decline around age 30 in most adults. The hippocampus is tucked deep in the brain and plays an important role in learning and memory. According to researchers, a larger hippocampus is associated with better performance on spatial reasoning and other cognitive tasks.

Another study in Neurology showed that exercise may help slow brain shrinkage in people with early Alzheimer's disease. In the study, adults diagnosed with early Alzheimer's who were less physically fit had

four times

more brain shrinkage than normal older adults. A study from 2010 in the journal, Brain Research found an association between physical fitness and children's brain power, too. In the study, researchers found that, on average, fit 9- and 10-year-old children had larger hippocampi and performed better on memory tests than their more sedentary peers.

How Exercise Helps the Brain
Here are a few more ways that exercise boosts brain power, according to AARP.
It improves concentration and attention. When you're fit, you have faster reaction times and can better focus on relevant information.


It promotes neurogenesis. Although it hasn't been proven in humans, animals that are given the opportunity to run on exercise wheels have shown increases in the creation and survival of new brain cells in the hippocampus.


It may improve memory. In animals, running also increases the strength of synaptic connections, thereby improving long-term memory.


It reduces gray-matter loss. Fit people show less of a decrease in gray matter than is normally seen with aging.


It changes gene patterns. Exercise changes the expression patterns of a wide array of genes, with some becoming more active and some showing less activity. Many of the genes that become more active are known to play roles in the structure and adaptability of synapses, suggesting a direct role for exercise in synapse density.


It enhances blood flow. Exercise also increases the density and size of brain capillaries, which increases blood flow and oxygen to the brain. This may in turn help support the survival of new neurons and help your neurons fire more quickly.
Continued ›
Article created on: 3/29/2011