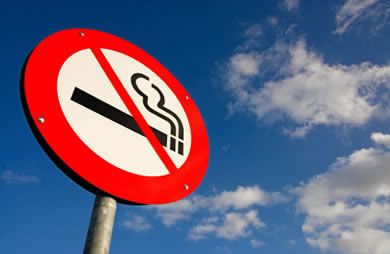 Congratulations! You've decided to quit smoking. You know it's a smart move—quitting cigarette smoking is the number one thing you can do to dramatically improve your health and avoid several potentially life threatening illnesses. You're feeling ready and committed to breaking the habit once and for all.

Or are you? Is there a little voice in the back of your mind warning you that if you do stop smoking, you are sure to gain some weight? Is that little voice causing you to hesitate, and delay the big step for a while? Are you thinking you want to get a little closer to your goal weight before embarking on this next big lifestyle change?

If you answered "yes" to any of the above questions, that is OK. It makes sense that you are fearful about gaining weight when you quit cigarettes. Research says that the majority of adults gain an average of five to eight pounds when they kick the cigarette habit, and there are many reasons why this happens. However, with some planning, education and insight, it is not an inevitable consequence. There are tools and techniques you can use to keep the scale steady.

First, let's get an understanding of why weight gain can be a problem when you give up smoking. Smokers may have a slightly elevated metabolism due to the calorie burning effect of smoking. It's estimated that smoking cigarettes burns between 200-250 extra calories per day. Nicotine acts as an appetite suppressant, so you may eat less. Along with the fact that many replace the urge to smoke with eating, daily caloric intake can easily escalate.

Nicotine also increases serotonin, the neurotransmitter that leads to relaxed and calm feelings. When the levels of serotonin decrease, we end up feeling irritable, cranky and stressed. To complicate matters, carbohydrates increase our serotonin levels, which explains the cravings for starchy or sweet foods. If you are used to reaching for a cigarette to calm down when faced with outside stressors, and you're working hard to get cigarettes out of your life, food can easily become part of your stress-management toolbox.

Seasoned smokers tend to have an oral fixation; they're used to having something in their mouth. Without cigarettes, food can become the thing that satisfies the need to keep your mouth busy. And last, but not least, stopping for a smoke is often a break in the action. It's what you may reach for to signify the end of the meal, or a reason to take five during your workday, or just have a rest from anything you are doing. Once again, it would be easy to let food be the replacement when it's time to take a breather (no pun, intended).

Continued ›
Article created on: 1/11/2011