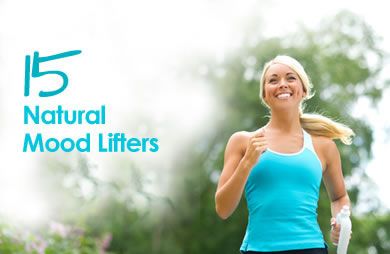 One morning I awoke and decided it was the perfect day to mix myself a "happiness cocktail." After indulging in my happy hour, I felt more than ready to take on the day! Just in case you're wondering why a wellness coach is reaching for a cocktail at the crack of dawn, let me explain.

While getting dressed, I thought about the many natural ways I could lift my spirits and then realized that I was already combining many of the approaches behavioral psychologists tell us are beneficial: I went outside for my morning exercise and listened to my favorite music on my iPod—all with my labradoodle, Ozzy right by side. Exercise, nature, music, my pet— these are the ingredients of my personal happiness cocktail. Any of these things alone help to lift my spirits when I'm feeling down, but together they can put me in a euphoric state. Talk about crisscross effects! No matter what may be weighing on my mind, an outdoor run with Ozzy always improves my mood and increases my optimism (not to mention all the other great things this activity does for my body).

As a professional wellness coach, it is vital for my mind to stay calm, open and curious when meeting with a client. A bad mood can certainly be detrimental to the session. And although I have a fairly sunny disposition by nature, even I feel down sometimes and need ways to improve my mood quickly and easily.

At times, we all need to lift our spirits in an instant. Luckily, some environmental and situational factors are easy to control. If you have a grumpy friend, you can simply walk away and call up an optimistic friend. If sad movies usually leave you feeling badly long after watching, you can stick to comedies or other uplifting genres. But if you are made to deal with a difficult individual who is a co-worker or family member, escaping may not be so simple. And you certainly can't control the weather.

But we don't need to be victims of circumstances—and we certainly do have control over our choices. If keeping your moods on an even keel and staying relaxed are things you would like to pursue, you'll be happy to know it's much easier than you probably think. Behavioral scientists are studying how we can improve our moods by taking control of our daily behaviors. The expression, "you are what you eat" has proven to be true—not just for disease management but our overall state of mind. If you find yourself irritable, fatigued, unfocused or even blue, it may be your diet. What you eat, how often you eat, and how much you eat are all factors that can dramatically impact your mood. So, if you can keep your blood sugar stable, your mood may follow.

We also know that exercise stimulates the chemicals in our brains that lead to feelings of tranquility and well-being. The release of endorphins are responsible for things such as the "runner's high" or the incredible surge in creativity fitness participants often report. Even a leisurely stroll can increase the oxygen flow to your brain leading to a sense of calmness, greater energy and focus.

According to common sense, feelings are what cause our behavior. When we are sad, we cry. When we are angry, we rant and rave. However, a large and growing body of research shows that feelings often

follow

our behavioral choices. In other words, if we force ourselves to smile, we feel happier. And if we pretend to be excited, upbeat and energized, we begin to actually feel that way. This again proves that we are more in control of our moods than just the circumstances around us.
Continued ›
Article created on: 11/2/2010