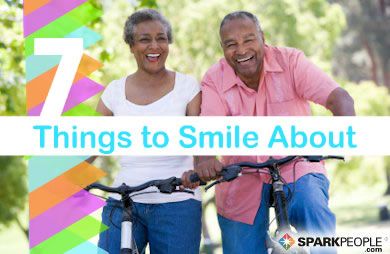 Smiling happens without much thought. When you watch a friend do something silly or embarrassing, you smirk. When a police officer lets you off without a ticket, you grin. And when you are recognized for your top performance in academics or at work, you beam. Smiling is a very natural response that shares our happiness with others.

But did you know that smiling also triggers activity in your brain? Yep, there's a serious mind-body connection there, in your left frontal cortex to be exact, which is—not surprisingly—the area of your brain that registers happiness.

How often do you smile in a day? Do you smile when you meet new people? When you see your friends? Around your co-workers? How about your significant other? Your face has 44 muscles in it that allow you make more than 5,000 different types of expressions, many of which are smiles. Read on for seven reasons why smiling is good for you, your health and your social life!



7 Things to Smile About


1. Smiling can make you happy (even when you're not).
Remember that mind-body connection we were just talking about? Well, it turns out that the simple act of smiling sends a message to your brain that you're happy. And when you're happy, your body pumps out all kinds of feel-good endorphins. This reaction has been studied since the 1980s and has been proven a number of times. In 1984, an article in the journal Science showed that when people mimic different emotional expressions, their bodies produce physiological changes that reflect the emotion, too, such as changes in heart and breathing rate. Another German study found that people felt happy just by holding a small pen clenched in their teeth, imitating a smile.

Just remember that the research goes both ways. When the people in the first study frowned, they felt less happy, and in the German study, people who held a pen in their protruding lips, imitating a pout, felt unhappy. So the next time you feel sad or upset, try smiling. It just might make your body—and therefore you—feel better.

2. Smiling can make others happy.
"When you're smilin', the whole world smiles with you." Ever heard that song, made famous by Louis Armstrong? Well, it's true. Research shows that smiling is contagious. Ever been around someone who just had something fantastic happen to him or her? Isn't it almost impossible not to feel good, too? Studies show that something as simple as seeing a friend smile can activate the muscles in your face to make that same expression, without you even being aware that you are doing it. Crazy, right?

Continued ›
Article created on: 8/3/2010