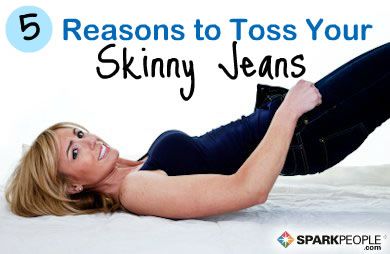 Peek into a woman's closet, and tucked amid all the clothes is something that almost every woman keeps. She strives to wear it again someday, no matter how unrealistic or out of style it may be. What is it? Her "skinny" jeans. Whether yours take the form of pants, swimwear or even an old suit or dress, women and men alike keep these too-small clothes for years. Some are even brand new, tags attached, bought as inspiration to lose weight so that garment would fit.

Recently, I started to wonder: Is it detrimental to hold on to your skinny jeans? I must confess that up until three years ago, I, too, had my own little cache of one-day-I-will-fit-into-these-again outfits. As with many trends in fashion, if you hang on to something long enough, it will eventually come back in style. I am not sure whether fashion itself or the desire to be a smaller size again was my motive. Not only did I still own the little black sundress I wore the night my husband and I met 27 years ago, but I also had my very first pair of Levi's 501 button-fly jeans tucked away in a drawer. But I'm not alone.

In 2006, a Talbots National Fit Study poll asked 2,200 women ranging in age from 35 to 65 about their clothes-buying habits. Here's what they found:
More than 33 percent admitted to having clothes in their closet that were too small for them to wear.
Surprisingly, 85 percent "determined if something fit them by looking at the size tag," not by how the clothing actually fit.
Forty percent purchased clothes that were too small in hopes that they would one day be able to wear them after losing weight.
Shockingly, 25 percent of the clothes women buy never leave their closets!
Does holding on to clothes that don't fit really motivate people lose weight, or could it be holding them back? Here's a list of honest reasons why keeping too-tight clothes might actually hurt your self-esteem, weight loss efforts and more.
They become a constant reminder that you are not at your "ideal" size. While it may seem motivating, this thinking can lead you down a destructive path to lower self-esteem and self-worth. And not only for people who are losing weight, but also for those who have experienced a change in body shape due to childbearing and/or age. When you are constantly measuring your self-worth based on the body of your youth, you'll never learn to embrace the person that you are today.

Continued ›
Article created on: 2/10/2009