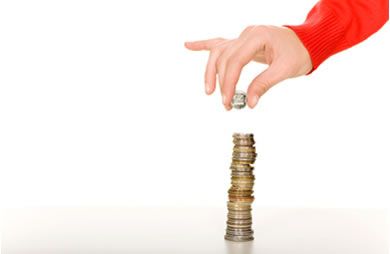 Got money problems? These days, when many people earn the equivalent of 4 gallons of gas per hour, who doesn't?

For many people, money problems go beyond coping with rising prices or tweaking your budget to keep your expenses within your means; they're a way of life. No matter how much money you have, it's never enough to make you feel happy, secure, or satisfied. Dealing with money can become incredibly complex and difficult, too. It's very easy to want more of it than you truly need; to spend more of it than you have; or to expect it to solve problems that it can't. In fact, it's not just easy to get caught up in problematic spending habits—it's almost expected of us.

The advertising and credit industries have done amazingly well at transforming money (and all the things it can buy) into potent symbols of personal power, status, success, and even personal identity. If you want to be successful, buy a fancier car! As a result, the difference between what we need and what we want has become harder to define. The connection between who we are and the things we have has become much more confusing than it needs to be. And the ability to manage money and spending with simple math and logic is often lost in a sea of strong feelings, needs, and insecurities.

If all of this sounds similar to the issues many people have with body image and emotional eating, that's because it is.

There's an old saying about money that you often hear in self-help circles: "If the only problem you have is a money problem, then you don't have any problems." What this slogan is pointing out is that most problems with money aren't really money problems, and you can't solve them by getting your hands on more money. The real problems are the attitudes, expectations, feelings, and assumptions we have about ourselves and the things we desire or think we need.

We don't make up these problem-causing assumptions ourselves. We pick them up from the people and culture around us. Unfortunately, it's more difficult to pick up the strategies we need to inoculate ourselves against the constant barrage of advertising, easy credit, and social pressures that make it so easy to use money and spending in self-defeating ways. But you can do this for yourself if you're willing to do a little work.

The feelings and thoughts that lie beneath bad money habits can run the gamut from depression, anxiety, loneliness, boredom, and other emotional problems that lead to shopping as "retail therapy," to some fairly simple and very common "mental errors" we're all prone to make in the moments when we decide what to spend our money on.

Continued ›
Article created on: 1/27/2009