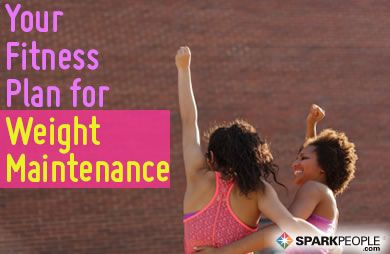 If you're thinking that reaching your goal weight means you can finally slack off when it comes to exercise, then it's time to change that thinking right now. The fact is that people who are successful at maintaining their weight loss over time do as much or more physical activity than they did while losing weight.

According to the Framingham Study (the largest ongoing study ever conducted on what it takes to maintain weight loss over time), here's what the successful "maintainers" have in common when it comes to physical activity:
They spend an hour or more per day doing some kind of moderate-intensity physical activity
They typically burn between 2,000 and 3,000 calories per week (on average) with exercise
They watch less than 16 hours of TV per week, and usually less than 2 hours per day
They incorporate a significant amount of physical activity into their daily routines, often by doing many things the "old-fashioned way," without using modern labor-saving devices.
The good news is that you don't have to live the life of a professional athlete in constant training to keep the bulge at bay. If you are athletic, continuing that level of activity is great, of course. But finding some kind of recreational activity that's enjoyable enough not to feel like "exercise" is always a good idea. After all, you'll have an easier time sticking to your exercise plan and beating boredom if you're having fun.

But "moderate intensity physical activity" can also include brisk walking and anything else that gets your heart rate up to an aerobic level. In fact, walking is by far the most common form of regular activity successful maintainers do on a daily basis. And you don't have to lug your laundry down to the local stream and do it by hand to increase your "lifestyle" activity; just unplug the electric can-opener and mixer, keep the cell phone in the next room, and take the batteries out of your TV's remote control—you get the idea.
Continued ›
Article created on: 3/31/2008