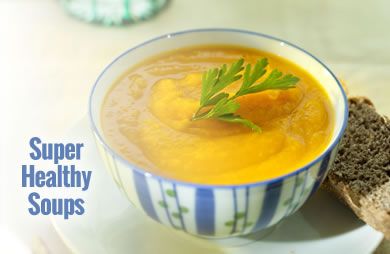 Take stock the next time you walk through the soup aisle at your local grocery store. Soup can be good and healthy food. It can be a tasty way to add healthy beans, legumes, grains and vegetables to your diet. It's a convenient, yet inexpensive way to add protein, vitamins, minerals and fiber to your diet. And soup is both comforting and filling—a hot, savory bowl can help take the chill out of the fall and winter seasons. Want more reasons to ladle up?
Soup may curb your appetite. Studies show that people who eat broth or vegetable-based soups (not creamy or high-fat ones) as the first course of a meal consume fewer total calories during their meal. In fact, study participants consumed 20% fewer calories when they started their meal with soup!
Soup can help you slow down. Eating a bowl of soup involves spooning, slurping, smelling, tasting, chewing, and swallowing. This helps you slow down your eating time instead of inhaling your food. Slower eaters tend to notice signs of fullness sooner and consume fewer calories by better enjoying their food in the moment.
Soup stimulates the senses. These warm concoctions have unique aromas, tastes, enjoyable temperatures and visual interest, which add to the pleasure you experience when eating.
Continued ›
Article created on: 11/6/2007