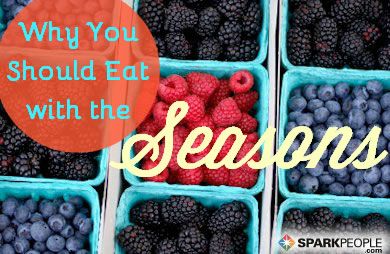 You ate them in February, from half a continent away, and they were flat and bland—passable, but nothing to write home about. Now, you take a bite from one grown half a mile away, and it's spectacular—sweet, juicy, and flavorful.

We're talking in this particular instance about tomatoes, but we could say the same thing about any of a dozen produce items you'll find at your local farmer's market now. 'Tis the season to eat fresh, as the tender new growth of spring ripens into the rich abundance of summer. So why settle for "so-so" when you can savor the sensational? Consider the benefits of eating foods at the peak of their season. Seasonal foods…
serve up the most flavor.
pack the biggest nutritional punch.
boost your budget.
are tied to the special days and seasons of our lives: sweet, luscious watermelon paired with the memory of fireflies and fireworks; fragrant hearty soups that temper winter's chill; sweet young vegetables that accompany spring's first warm day.
As consumers today, we're very lucky in some respects. The crisscross networks of our global village provide things our ancestors could only dream about, such as oranges in December. On the other hand, as we shed our rural roots, we tend to lose sight of the seasonal rhythm of life, relying heavily on processed foods and a worldwide distribution system that makes our grocery shelves look pretty much the same year-round. The out-of-season produce we buy has often traversed 1,000 miles or more by the time it reaches our kitchens—with a corresponding loss of flavor and nutrition and an increase in wax coatings, chemical ripening agents, and other preservatives.

But locally-grown seasonal foods often harmonize with our nutritional needs. For example, the beta carotene in the orange pigment of pumpkins and other squash will help bolster your immune system just in time to help ward off winter colds. And the oils of nuts—fats in their purest form—will provide nutrient-rich calories that help keep you warm as the temperature drops.

In fact, recent research shows that eating seasonally may have major health implications. A British study in 1997 found significant differences in the nutritional contents of pasteurized milk in summer as opposed to winter: iodine was higher in the winter, while beta-carotene (an antioxidant and immune system booster that helps the body create vitamin A) was higher in the summer. Similarly, a Japanese study found a three-fold difference in the vitamin C content of spinach harvested in summer versus that harvested in winter.


Continued ›
Article created on: 4/26/2006