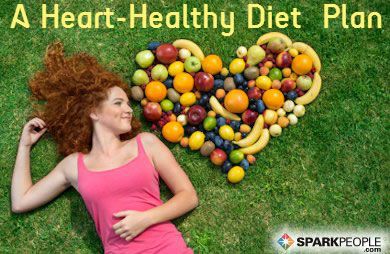 Looking for ways to kick start your heart-healthy lifestyle? Start by looking at your diet. Poor food choices can have a negative effect on your heart, weight and overall health; but making small, sustainable changes to improve your diet can have a lasting impact. There is a lot of misinformation about what foods are or aren't heart-healthy, so it may surprise you to learn that you don't need exotic fruits, imported nuts, or even pricey supplements to take care of your ticker. By making heart smart choices at home, at the grocery and at your favorite restaurant, you can reduce your risk of heart disease.



Dietary DOs and DON'Ts for a Healthy Heart


DO focus on fruits and vegetables. Most American's don't come close to eating the recommended minimum of five servings per day, but vegetables and fruits of all kinds and colors should take center stage in a heart-healthy diet. They're rich in fiber, vitamins, minerals and antioxidants that promote a healthy heart and body, plus they're filling and low in calories, which can promote weight management. Fresh, frozen, dried, canned (without sugar/syrups or added salt), raw, cooked—all fruits and vegetables are good for you. Here are more tips to fit them into your meals and snacks.

DON'T overdo it on juice and processed "fruit" snacks. The fruit filling in a breakfast pastry is mostly sugar—not a real serving of fruit. And while small amounts of 100% fruit juice can fit into a healthy diet, they're also concentrated sources of sugar (naturally occurring) and calories compared to whole fruits, which also boast heart-healthy fiber while juice does not. Find out how juice can fit into a healthy diet.

DO monitor your sodium intake. Sodium gets a bad rap—and deservedly so. Our bodies do need this mineral, but in much smaller quantities than we normally eat. To prevent high blood pressure and heart disease, a healthy sodium goal to strive for is no more than 1,500 milligrams per day. Keep in mind that sodium doesn't just come from the salt shaker; processed foods, frozen entrees, canned vegetables, common condiments (like ketchup), deli meats (such as salami) and cheeses (including cottage cheese) can be high in sodium, as can many restaurant dishes. Learn how sodium sneaks into your diet and ways to reduce your intake.

DON'T forget about added sugar. Most people know that sugar isn't exactly a health food. It provides quick-digesting carbohydrates, but no real nutrition (think: vitamins and minerals). While many people associate sugar with the development of diabetes, few people realize that sugar plays just as much of a role in heart disease as dietary fat does. One study published in the Journal of the American Medical Association found that individuals who ate more sugar had lower levels of HDL "good" cholesterol and higher triglycerides—markers of increased heart disease risk. The American Heart Association recommends that women consume no more than 6 teaspoons of added sugars (about 100 calories) each day; that number becomes 9 teaspoons for men (150 calories). Just one 12-ounce can of cola has about 130 calories, or eight teaspoons of sugar. Learn more about where sugar lurks in your diet.

Continued ›
Article created on: 10/9/2012