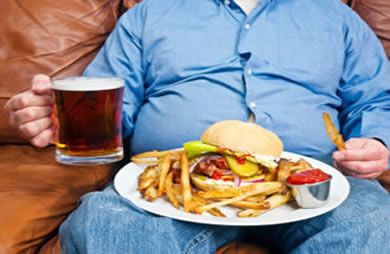 Why do we eat? We all know why we should be eating: to supply our bodies with plenty of energy to get through the day; to get nutrients like vitamins, minerals, antioxidants, and phytochemicals which help us to stay healthy and free of disease; and to get useful carbohydrates, proteins, and fats—all of which contribute to running our bodies properly and maintaining good health.

But sometimes we can all be guilty of eating for other reasons. We love food! And that's great! Eating should be pleasurable, not just nutritious. Food is everywhere: books are devoted to cooking and recipes, we find ourselves daydreaming and even talking about the newest restaurant or our favorite foods.

Many times we eat to celebrate—holidays, job promotions, graduations, weddings…we'll find just about any achievement ("I raked the yard!", "We sold our house!", "My favorite team won!") to be celebration-worthy, and we'll eat to commemorate it.

Other times, we let our emotions take over. When we're stressed out, sad, angry, or lonely, we oftentimes turn to food to comfort us. Even starting (and staying on) a new diet can be stressful, especially when emotions creep in.

In our food-obsessed culture with out-of-control portions always lurking within our grasps, how can we not overeat? It's hard to break habits and go against the lessons we have always been taught, like cleaning our plates, not being wasteful, or getting the best deal—which usually means ordering up and getting a lot more food for the money.

There are many ways to stop overeating. While some may seem silly…silly just may work for you. From the following list, find a few that work best for you, and try several. For example, if you find yourself eating out a lot, experiment with the dining out options more. After finding the strategies that work, stick with them. Over time, you'll break the habits of overeating and form new habits. Pretty soon, you won't even need the strategies at all, and you'll be on your way to a permanent lifestyle change!

Skills for Any Setting
Whether you're cooking your own meal, eating at work, or snacking at a football game, here are the strategies you can take anywhere:

Know your portion sizes. Make your own "portion pack" to take with you or keep the following common items in mind when preparing and eating meals.

A golf ball is the size of a serving of nuts (including peanut butter) or cheese.
A deck of playing cards is equivalent to 3 ounces of any meat.
Use a die to estimate a proper serving of oils and fats.
For fruit and veggie servings, use a tennis ball.
One serving of cooked grains or potatoes is about the size of a computer mouse.

Divide your plate. When cooking at home, looking at pictures on menus, or shopping ala carte at the work cafeteria, your plate should look like this:

Half (or more) of the plate should be filled with fruits and vegetables.
Protein-rich foods (meat or legumes) and starches (grains, potatoes, bread) should take up one quarter of the plate each.
Fill your "divided plate" only once. If you're still hungry, have another half-plate of vegetables. It's that simple.
Portion-controlled plates are available to buy as well…although they're much more expensive than drawing an imaginary line. Try the Diet Plate.

Quench your hunger with water. Instead of high-calorie, low-nutrient drinks like soda, alcohol, or other sugary drinks, choose water. It's free wherever you go, and most people don't meet their 8-10 cups-a-day requirement. Drink water before, during, and after a meal to slow yourself down while eating and curb hunger.
Fill up on Fiber. The healthiest and most filling foods are high in fiber—think fruits and veggies, and whole, unprocessed grains. Adding fiber to your diet will aid in weight loss, and keep you feeling fuller longer, so you may eat less.
Supportive groups are crucial. Surround yourself with positive people who motivate you to reach your goals, not those who want to sabotage your efforts. When you feel tempted, emotional, or if you have already gotten off-track, turn to your support group. Call a friend, email a family member, or get online to the SparkPeople message boards. Sometimes all you need is a short word of advice from a friendly voice.
Continued ›
Article created on: 10/27/2004