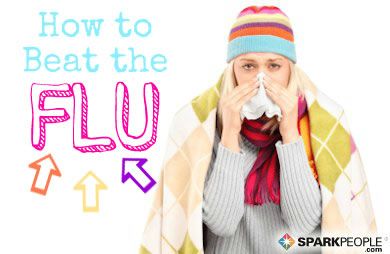 When a virus enters your body, one of three things can happen:
The virus can die, OR
Your immune system can activate and kill the virus, OR
The virus can survive, multiply, and produce a cold or the flu.
How do you keep this from happening?

Prevention
The power of produce: Plant foods contain natural disease fighting compounds called phytochemicals and antioxidants. These substances can enhance your immune system. Therefore, eat vegetables and fruits at least 5 times a day, preferably 7-9 times.
Exercise: Regular, moderate exercise will stimulate the fighting T cells into doing their job – attacking foreign invaders like germs and viruses.
Healthy Lifestyle: To improve your immune system and resistance to disease commit to these guidelines: do not smoke, sleep 7-8 hours each night, eat a nutritious diet that includes breakfast, and avoid (or take steps to reduce) mental stress.
Germs: To avoid the spread of germs, wash your hands frequently with warm soapy water (for at least 20 seconds), and do not share cups or food.
Water: Drink 8-12 cups of water every day. Water helps to cleanse the body and remove toxins, including germs. By keeping body systems, especially the respiratory system, well hydrated, you can enhance your virus-fighting potential.
Continued ›