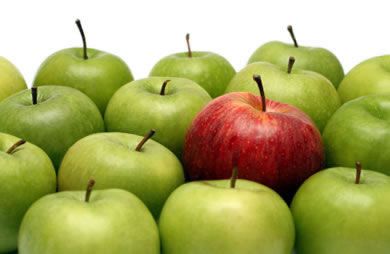 Recently, I was standing in front of a beautiful display of apples at a local grocery store. A very puzzled gentleman asked me which apples were for pies. His wife had given him the shopping list, but had not explained which type of apple to buy. If this sounds familiar, then read on.

Fall, the apple-picking season, is here! Whether you pick your own at an orchard, support your local farmer's market or shop at the grocery store—with so many varieties available, anyone can get confused. Here's an easy guide to help choose the best apples for your needs, whether baking, cooking, or just simply eating.
For eating straight from the basket, crisp, juicy, and tangy varieties are best. Red Delicious is the most popular eating apple, but if you prefer a denser, tarter snack, try a Granny Smith, or a softer-fleshed McIntosh. Or check out the distinctive tastes of local farm varieties like Newton, Pippin, Macoun, or Sweet Sixteen.
To make applesauce, McIntosh is moist and flavorful. Cortlands and Braeburns also make good choices.

Continued ›
Article created on: 9/20/2004