Mood-Wreckers
Caffeine
Although there is no clear link between caffeine and depressed mood, people who are sensitive to caffeine may experience effects that could exacerbate current depression symptoms. For example, for those who are highly dependent on caffeine, stopping intake altogether may cause irritability and fatigue. Excessive caffeine consumption can also cause sleeping troubles, which could worsen depression symptoms. If caffeine causes you mood problems, switch to decaf coffee or tea, and stop consuming caffeine about four hours before bedtime.


Fried and Processed Foods
Studies show that eating foods high in trans-fats (including fried foods and processed foods), may increase the risk of depression. On the flip side, consumption of healthy fats (think olive oil, nuts, fatty fish and avocado) may lower the risk of depression. Step away from the chip bag and reach for a handful of almonds or walnuts for a mood-booster.



Refined Sugars
Eating sugary foods like candy and packaged snack foods might give you a temporary energy "high", but it won't last you very long before your blood sugar dips down, causing irritability and fatigue. If you have to have something sweet, reach for a piece of fruit, which will deliver the important vitamins, minerals and fiber that will boost you mood instead of bringing it down.


Alcohol
Having a drink every once in a while is a normal way to socialize and let loose. However, be sure to keep your usage in check, as alcohol abuse may trigger depression symptoms and/or exacerbate the symptoms of existing depression or anxiety disorders. If you struggle with depression or find yourself relying on alcohol too much to have a good time, try to surround yourself with others who don't partake.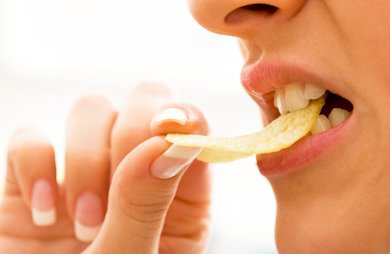 Salty Foods
Sodium isn't just bad for your blood pressure--it might also wreck your mood. Although it has not been proven that too much sodium causes depression symptoms, some evidence shows that depressed mood may be closely linked to high sodium levels. There is also some evidence that salt activates the same neural pathways in the brain as drugs and other addictive substances. Put down the shaker and flavor your food with fresh herbs and (salt-free) spices, instead.

Although food isn't a cure-all for a bad mood, eating a nutritious diet is one small step to feeling better overall, mentally and physically. Eat up to stop feeling down!

This article has been reviewed and approved by Becky Hand, Licensed and Registered Dietitian.

Sources

Benton, D. ''Selenium intake, mood and other aspects of psychological functioning,'' accessed August 2013. www.ncbi.nlm.nih.gov.

Bertone-Johnson, E. ''Vitamin D and the Occurrence of Depression: Causal Association or Circumstantial Evidence?,'' accessed August 2013. www.ncbi.nlm.nih.gov.

Bolander-Gouaille, C., Coppen, A. ''Treatment of depression: time to consider folic acid and vitamin B12,'' accessed August 2013. jop.sagepub.com.

Costedio, M., Hyman, N., Mawe, G.M. ''Serotonin and its role in colonic function and in gastrointestinal disorders,'' accessed August 2013. www.ncbi.nlm.nih.gov.

Flury, L., Foroud, T., Meyer, E., Nurnberger, J., Wiegand, R. ''Is There a Genetic Relationship Between Alcoholism and Depression?,'' accessed August 2013. pubs.niaaa.nih.gov.

Gautam et al. ''Role of antioxidants in generalized anxiety disorder,'' accessed August 2013. www.ncbi.nlm.nih.gov.

Hall-Flavin, D. ''Caffeine and depression: is there a link?,'' accessed August 2013. www.mayoclinic.com.

Hvas, A.M, Juul, S., Bech, P., Nexo, E. ''Vitamin B6 level is associated with symptoms of depression,'' accessed August 2013. www.ncbi.nlm.nih.gov.

Johnson, A., Na, E., Morris, M. ''Salt craving: The psychobiology of pathogenic sodium intake,'' accessed August 2013. www.ncbi.nlm.nih.gov.

Melnick, M. ''Eating Fatty Food May Up Your Risk of Depression,'' accessed August 2013. heathland.time.com.

Mokhber et al. ''Effect of supplementation with selenium on postpartum depression: a randomized double-blind placebo-controlled trial,'' accessed August 2013. www.ncbi.nlm.nih.gov.

Ozdemir, O. ''Sodium and Depression: Hypothetical Associations,'' accessed August 2013. www.scopemed.org.

University of Maryland Medical Center. ''Omega-3 fatty acids,'' accessed August 2013. umm.edu.

Young, S. ''Folate and depression—a neglected problem,'' accessed August 2013. www.ncbi.nlm.nih.
Article created on: 8/7/2013