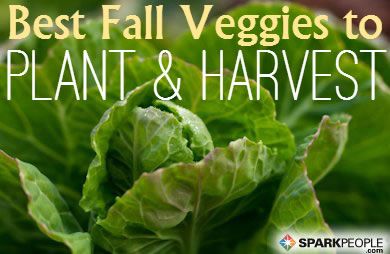 Have you ever noticed that your appetite tends to mimic the seasons? In winter, we crave hearty foods with potatoes, squash, garlic and onions and other cool-season produce. In summer, we're all about the veggies that have a refreshingly high water content and require minimal cooking, like tomatoes, melons, fresh salad greens and cucumbers. Fall is a great in-between season for vegetables—and, depending on your location, you may be able to plant and harvest a fresh crop before the snow falls.


Second Season Planting


Growers call fall the "second season," and it can accommodate cool-weather crops like greens and crucifers (think broccoli and cabbage). But the first thing to know about growing and harvesting fall produce—in fact, the key to successful gardening of any kind—is your area's hardiness zone. The National Gardening Association has a handy tool for finding your hardiness zone by zip code. Knowing your zone guides you toward plants that can tolerate the coldest temperatures in your area. (This is why northernmost gardeners shouldn't choose tropical plants for their outdoor landscapes.)

The second key piece of information for successful fall vegetable gardening: knowing your region's first killing frost date. The National Oceanic and Atmospheric Administration (NOAA) maintains a list of these dates by state and city.

The third thing you need to know when planning a fall vegetable garden is how many days it takes a particular crop to mature. Say you live in Zone 6, with a first-frost date of roughly October 23. You want to plant lettuce, which can be direct-sown in the ground and takes 30 days to mature. So you should plan to plant no later than mid-September for a successful crop you'll be able to harvest before the frost hits.


5 Crops You Can Plant in the Fall


Garlic
Garlic is super-fun to grow, and in many zones it can be planted in late fall for a late spring harvest. Simply purchase a head (or several) from your farmers' market or from a seed supplier like Burpee.com. (Do not use grocery-store garlic, which typically is treated to prevent germination, so you don't get the little green shoots sprouting in your pantry.) Separate the cloves, and plant them before the ground freezes, a foot apart in well-cultivated soil, much like you'd plant tulip bulbs. By June (in Zone 6), you'll be ready to harvest. The great thing is, you don't have to have a dedicated vegetable garden to grow garlic: its tall, leafy shoots could go in just about any landscaping bed. Even better: Fresh, homegrown garlic is much more flavorful than the store-bought kind. Here are more tips on growing your own garlic.

Continued ›
Article created on: 9/27/2011