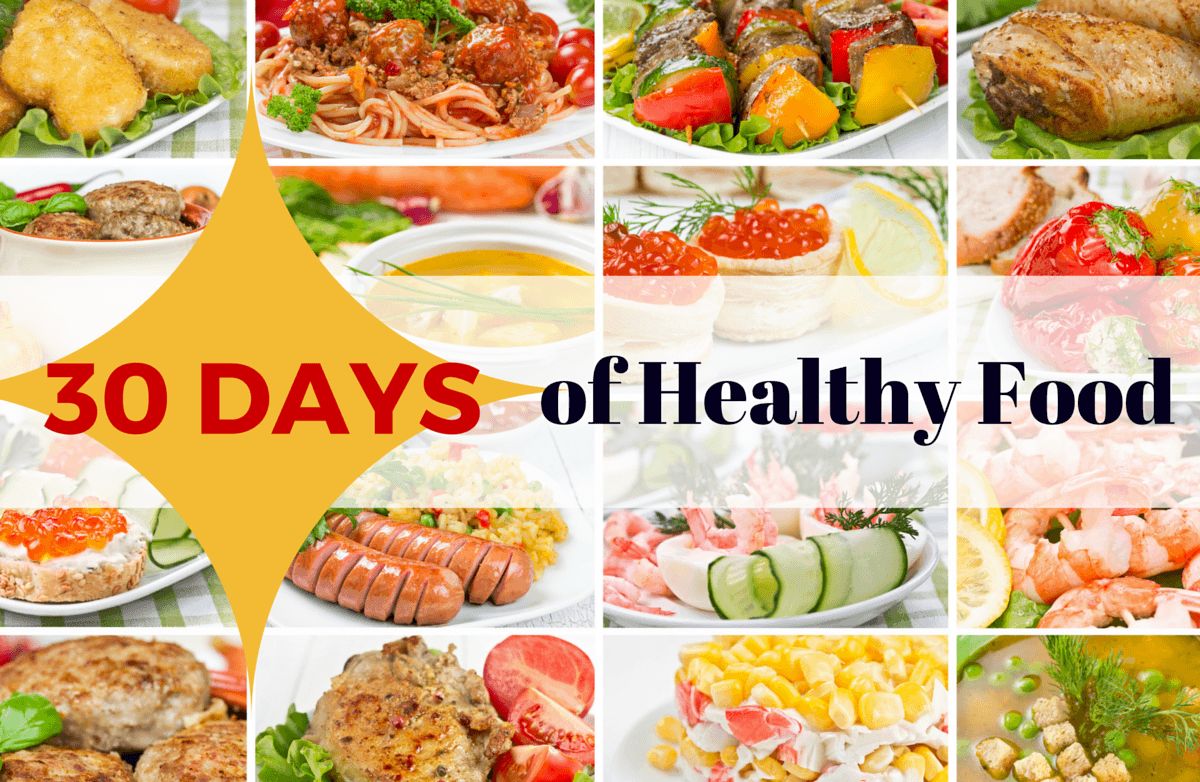 Cooking for better nutrition and weight management doesn't have to mean hours in the kitchen or complicated culinary techniques. These meals and snacks, part of our 30-Day "Fit Food" Challenge, are quick, easy, and full of flavor!

Here you'll find four weeks' worth of breakfasts, lunches and dinners, plus healthy snacks to round out your day. Depending on your hunger level and calorie needs, you can always adjust the portion sizes or add on with more snacks to meet your goals. We suggest eating 1-4 snacks each day (using the weekly lists provided) depending on your personalized needs. Note that the shopping lists for each meal plan do not include the snacks you may choose, so be sure to add your snack choices to your grocery list before you shop.

These meals are also flexible so that you can pick and choose what to eat on a given day based on time and taste preferences. If you come upon a meal that you don't care for, use this simple ''plate method'' of meal planning to create your own balanced meal—no calorie counting required!
30 Days of Fit Food: Meal Plans & Shopping List
(Get your shopping list for the week here!)
1. PB&J Oatmeal
Cook 1/2 cup oats according to package directions, using milk or water. Top with 2 Tbsp peanut butter, 1 Tbsp all-fruit jam & 1/2 cup raspberries. Serve with milk, if desired.

2. One-Minute Microwave Muffin
Toast 1 whole-grain English muffin, and place 1 egg in a small greased ramekin. Microwave on high for 30 seconds, then pierce the yolk with a fork and top with 1 slice ham or cooked bacon, 1 tomato slice & 1 slice cheddar cheese. Heat for another 30 seconds. Place cooked egg on the toasted muffin with condiments and spices of choice. Serve with 1 cup milk and an orange.

3. Scrambled Breakfast Taco
Toast 1 tortilla while you scramble 1 egg. Top the tortilla with 2 Tbsp cooked black beans, 1 Tbsp shredded cheese, 2 Tbsp salsa & 1/2 cup chopped veggies of choice. Top with 1 Tbsp Greek yogurt and desired seasonings.

4. Bacon 'n Cheese Oats
Cook 1/2 cup oats and top with 1 slice cooked bacon, 1 chopped green onion, 1/4 cup shredded cheese & a sprinkle of paprika, black pepper and salt.

5. Hash Brown Haystack
Cook 1 serving frozen hash brown according to package instructions. Meanwhile grease a small ramekin and place 1 egg in it. Microwave on high for 30 seconds, then top with 3 tomato slices and 1 slice cheese. Cook another 30 seconds. Top the hash brown with the egg mixture, seasoning as desired.

6. Rise & Shine Breakfast Sandwich
Spritz 1 slice whole-grain bread with cooking spray, then layer on 1 cooked egg, 1 slice deli ham & 1 slice cheese. Top with a second slice of bread, then toast on both sides until the cheese has melted and the sandwich is golden brown. Season as desired.

7. Berries & Cream French Toast
Combine 1 egg white, 2 Tbsp milk, 1 Tbsp orange juice & 1/2 tsp cinnamon in a shallow dish. Dip 2 slices whole-grain bread in the egg mixture, then cook on nonstick skillet until both sides are crispy. Combine 1 Tbsp OJ, 1 Tbsp low-fat cream cheese & 1 tsp powdered sugar, and spread on the slices of French toast. Top with 1/2 cup raspberries.


1. Shrimp Caesar Salad
Thaw 3 oz frozen, ready-to-eat shrimp under cool running water. Combine 3 cups romaine, 1 serving Caesar dressing, 1 Tbsp Parmesan cheese, 1 chopped tomato & 1 Tbsp chopped red onion. Serve with a whole-grain roll.

2. BBQ Chicken Pita with Tangy Coleslaw
Fill 1 whole-wheat pita with 1/2 cup drained prepared coleslaw, 3 oz of shredded cooked chicken or pork & 1 Tbsp BBQ sauce.

3. Tilapia with Hearty Vegetables
Heat 1 package Green Giant Healthy Weight Blend Frozen Vegetables according to package directions. Serve over 3 oz cooked tilapia.

4. Very Veggie Hummus Wrap
Spread 1 oz hummus inside a tortilla, then add 1 oz feta cheese and 1 cup assorted veggies of choice.

5. Potato Salad with Warm Bacon Dressing
Cook 1/2 slice chopped bacon in a skillet, then set aside, reserving grease. Add 1 Tbsp onion and cook until soft. Add 1 cup chopped, roasted potatoes and 1/2 cup chopped green beans, along with 1 Tbsp cider vinegar. Toss well, then transfer to a plate. Top with the bacon, 1 chopped hard-boiled egg & 1/2 oz cubed Swiss cheese. Season as desired.

6. Grownup Grilled Cheese and Tomato-Basil Soup
Spread 1/2 tsp butter on 2 slices of whole-grain bread, then spread 1 tsp jam or Dijon mustard on the opposite side. Top with 1 slice provolone cheese and grill until crispy and brown on both sides. Heat 1 serving prepared tomato soup and top with 1 Tbsp each of chopped basil or flat-leaf parsley.

7. Portobello Pepperoni Pizzas
Spritz 2 portabella mushroom caps with cooking spray, then sprinkle 1/2 tsp Italian herbs on the inside. Broil for a few minutes, until the mushrooms start to darken. Pour off any liquid, and divide 1/2 cup marinara sauce between the two mushrooms. Top with 1/4 cup part-skim mozzarella cheese and 4 slices chopped pepperoni. Broil until the cheese has melted.



Week 1: Dinners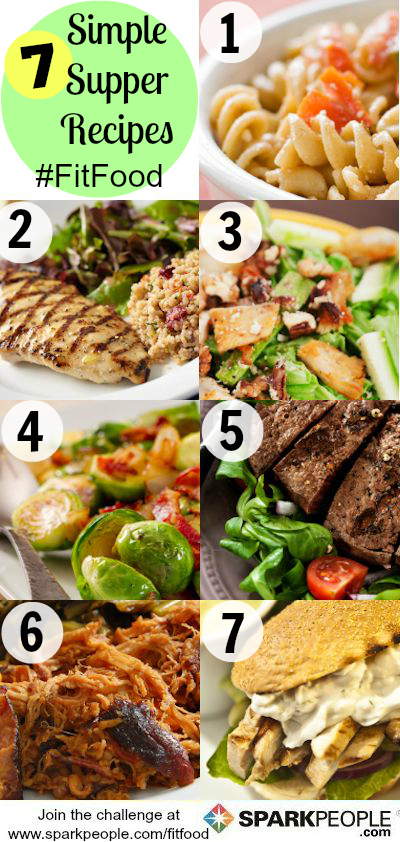 1. Cheesy Chicken & Veggie Pasta
Cook 1 oz whole-wheat pasta and toss with 1 package Green Giant Steamers Digestive Health Frozen Vegetables and 3 oz cooked chicken. Garnish with 1 Tbsp Parmesan cheese.

2. Cajun Chicken with Colorful Couscous Salad
Prepare 1/2 cup couscous according to package directions. Meanwhile place 1 chicken breast on a greased baking sheet and sprinkle on 1/2 tsp Cajun seasonings. Bake at 375 degrees until cooked through. Combine 1/2 cup corn, 1/2 red bell pepper, 2 Tbsp chopped onions & chopped fresh basil in a small bowl, seasoning with salt and pepper if desired. Serve chicken over couscous with the veggies on top.

3. Walnut-Apple Salad with Chicken
Combine 3 cups lettuce, 1 sliced apple, 1/4 cup diced onion, 1/2 oz chopped walnuts, 3 oz cooked chicken, 1 oz feta cheese & 2 Tbsp balsamic vinaigrette in a large bowl and serve.

4. Pork Chop with Balsamic Brussels Sprouts & Brown Rice
Season one pork chop as desired, then broil until cooked through. Meanwhile cook 1/2 slice of chopped bacon in a small skillet, then add 1 cup Brussels sprouts. Brown the Brussels sprouts, then add 1 Tbsp balsamic vinegar. Season with 1/4 tsp black pepper. Serve with the pork chop and 1/2 cup cooked brown rice.

5. Steak & Arugula Supper Salad
Combine 3 cups arugula, 1 sliced pear, 1 oz feta cheese, 1/4 cup sliced onions, 3 oz cooked steak (sliced) & 2 Tbsp balsamic vinaigrette in a large bowl. Serve with a whole-grain roll.

6. BBQ Pork 'n Veggies
Heat 1 package Green Giant Healthy Heart Blend Frozen Vegetables according to package directions. Reheat 3 oz of cooked pork (shredded) with 2 Tbsp BBQ sauce and serve.

7. Hot Chicken Sub Melt
Cook 1/2 chopped bell pepper, 1/2 chopped small onion & 1 sliced banana pepper in a skillet with 1/2 tsp olive oil until veggies start to brown, then add 3 oz cooked chicken to heat through. Top with 1 slice provolone cheese. Once melted, pile on a toasted hoagie bun.



Week 1: Snack Options




Choose 1-2 snacks each day based on hunger and calorie needs:

1/2 cup fat-free cottage cheese with 1 cup of berries

Mini bag of air-popped popcorn sprinkled with your favorite seasoning and 1 Tbsp parmesan cheese

Carrots with 2 Tbsp hummus

1 cored apple, warmed in the microwave until soft, center filled with 1/4 cup chopped walnuts, 1 tsp brown sugar, 1 Tbsp flaxseed, and cinnamon

Homemade trail mix made with 1/2 cup multi-grain Cheerios and 1/4 cup dried fruit

1 cup fat-free Greek yogurt with 1 Tbsp of honey

1 package Green Giant Healthy Vision Blend Frozen Vegetables

1 slice of whole-grain toast topped with 1 oz goat cheese and a small handful of raspberries

2 cups kale tossed in 1 Tbsp olive oil, sprinkled with salt and pepper and baked at 350 degrees until crispy

1 Apple with 1 Tbsp of peanut butter

4 turkey deli meat slices with celery

1 granola bar

1 oz of mixed nuts

3 stalks of celery dipped into 3 oz of fat-free Greek yogurt mixed with 1 tsp powdered ranch dressing

Green Giant Antioxidant Blend Frozen Vegetables with Olive Oil Seasoning

1 frozen banana with 10 almonds


Continued ›
Article created on: 9/25/2013