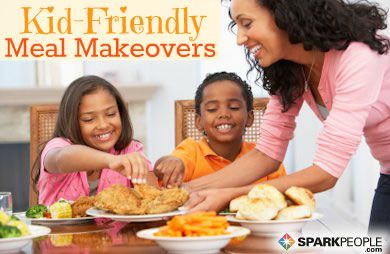 Think about what is offered on a typical children's menu at a sit-down restaurant: burgers, fries, spaghetti, macaroni and cheese, and chicken nuggets. When did these menu standards become "kid food," and why are we still conforming to the norm when we know it's unhealthy for our kids to eat foods like these on a regular basis? Manufactured, artificial, added-sugar and packaged are just a few words that describe most of the foods our culture associates with children.

As a parent, it's your job to ensure your children receive adequate nutrition and develop healthy eating habits. This, however, can be tough when battling constant advertising, the media and common requests from the majority of our kids. Exposing your children to healthful meals is one of the most important things you can do to help them develop a healthy lifestyle. As adults, they'll be more likely to consume a variety of foods if new foods are routinely introduced at a young age. Research has shown that it can take 10 tries to get kids to eat a new food, so don't get discouraged. These meals are kids' menu favorites with a nutritious twist. The options are healthier--most have less fat and/or sugar--while packing more vitamins and minerals for your growing munchkins. These ideas should make the cut for both parents and kids. After all, who wants to make two meals every night?



Chicken Noodle Soup


Everyday chicken noodle soup can be transformed into a powerhouse of vitamins by adding a serving or two of vegetables to the bowl. You're thinking you can already hear the complaints about the soup being "chunky," right? Well, your secret weapon to battle veggie woes is the blender. This handy appliance will be your new best friend when it comes to loading your favorite recipes with nutrients. To give your chicken soup a makeover, saute or steam chopped onions, carrots and celery, then give them a whirl in the blender with a bit of broth before adding it to the pot of chicken, broth and noodles. (You also can use this tactic with canned or boxed chicken soup.) Serve with whole-grain crackers in fun shapes.



Tip:

The blender method can be used with many other dishes and vegetables. Try cooking cauliflower and broccoli and mixing them into the egg and low fat cottage or ricotta cheese mixture you use in lasagna. Zucchini can be grated, steamed and pureed into a mixture to add to a chicken and broccoli casserole.
Continued ›
Article created on: 6/8/2010