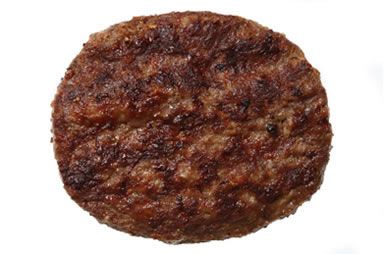 I subscribe to several email newsletters, including one that delivers recipes to my inbox just before lunch each day. The recipes are always mouth-watering and tempting, but they're not always healthy.

A recent email offered five recipes for affordable comfort food: Variations on meatloaf and mashed potatoes, chili, sloppy joes, meatballs and burgers and fries.

While the recipes made me hungry, I knew I wouldn't be expending that many calories on one meal.

The typical cheeseburger with the works has 630 calories and 41 g of fat (and that's one made at home, not one from a restaurant)! Add on some fries and you're looking at another 340 calories and 17 g fat!

Wowza! How about meatloaf and mashed potatoes? They sound awfully comforting. Together, they can top 800 calories and 40 grams of fat. That doesn't seem very comforting to me. In fact, that calorie count makes me want to run the other way!

I do love comfort food, so I sought out some slimmed-down comfort foods. My favorite: Oven fries!

They're seriously easy, and pretty light, too. For half a large baking potato, you'll rack up only 162 calories and 2.4 g fat (click the recipe above for more nutrition info). With numbers like those, you won't feel guilty no matter what you dip them in.

Dress up your oven fries with chili powder, chopped rosemary, grill seasoning or your favorite salt-free seasoning blend. I sometimes make oven "fries" with butternut squash, sweet potatoes (peel them) or even zucchini.

If you're in the mood for something creamy tonight, check out these recipes: Mashed potatoes and meatloaf for under 150 calories each!

Read on to learn how to keep the flavor, cut the fat, all while stretching a buck!

Love Italian sausage? Instead of serving up 4 giant links of sausage alongside your pasta meal, why not use one link to flavor 3/4 pound of lean ground turkey? Remove the casing and brown the meats together, making sure to drain and blot the meats when cooked. Add additional Italian seasoning if desired.

Compare the calories: Italian sausage (4-ounce link):
391 calories, 35.4 g fat, 12.7 g saturated fat
With sausage and lean ground beef (4 ounces): 322 calories, 26.4 g fat, 10.3 g saturated fat
With lean ground turkey and Italian sausage:
242 calories, 16.9 g fat, 5.3 g saturated fat

Serving sausage sandwiches? Try turkey Italian sausage topped with plenty of grilled onions, peppers and tomatoes. And don't forget the whole-wheat buns.

Continued ›
Article created on: 5/20/2009