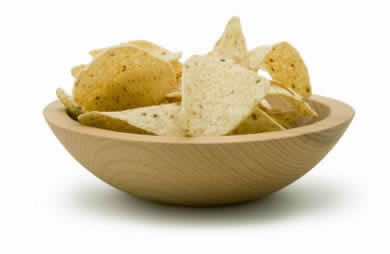 What would life be like without parties? And what's a party without great snacks? Too often, food is an afterthought to the drinks at cocktail, Super Bowl and holiday parties. What's a healthy eater to do when her only choices are a cheese ball (100 calories, 7 grams fat per serving) and crackers or a bowl of thick and creamy onion dip (60 calories, 6 grams fat per serving) with greasy potato chips? Make over your party fare with these new "chip" ideas, and slimmed down dips, which are affordable and healthy, too!

Ditch the Chips
Dig into your dip with one of these more nutritious options instead:
Grilled chicken (or tofu) chunks
Broccoli or cauliflower, steamed or raw
Bite size chunks of crusty whole-grain bread
Small whole wheat pretzels (Yes, they do exist!)
Pita chips
Miniature whole wheat pita breads
Baby carrots
Bell peppers, sliced into strips or cut into triangles (Remove top and bottom, then core peppers. Slice down center so pepper lies flat, then cut into triangles.)
Endive leaves
Inner leaves from Romaine lettuce
Slim Down Your Dip
Start the party off right. Instead of rich, creamy and cheesy dips, try a lighter version of that favorite dip. And remember, one serving of dip is about 1 ounce or 2 Tablespoons—that's about the size of a pair of dice.



Spinach-Artichoke Dip

I'm famous for my healthier version of this recipe, which contains just 66 calories per serving. Just like the kind you get in restaurants, it's creamy and full of cheese. However, I use light cream cheese and just enough parmesan to add flavor. I sauté onions and garlic to add extra flavor. Even if you serve this with tortilla chips (one of my favorite treats at parties), the dip is still far lighter than the restaurant versions, which can have up to 775 calories per oversized serving!
Continued ›
Article created on: 1/27/2009