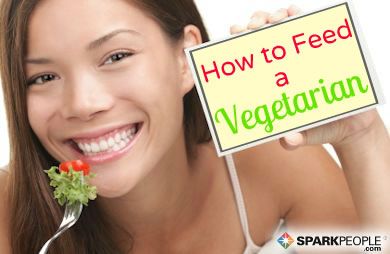 It's 6 o'clock. Your guests should be arriving in less than an hour. Then your friend calls. Guess who's coming to dinner? Her new boyfriend, who's a vegetarian.

One night at the dinner table, your teenage daughter announces that she's vegetarian and will no longer be eating meat, fish, dairy, or eggs.

Gulp.

That throws a wrench in your plans, doesn't it? What do vegetarians eat? Is he going to start spouting off about animal rights as your husband carves the Christmas ham? Is she going to expect an entirely separate meal?

You can relax, even if you don't know much about vegetarian cooking. Have no fear. Cooking for a vegetarian is easy, and by the time you read our guide to feeding a vegetarian, you'll be all set.

You probably have quite a few vegetarian meals in your repertoire and likely have at least a couple of vegetables and meatless foods on the menu or in the fridge.

As the name implies, vegetarians eat vegetables, but vegetarian cuisine is vast and exciting. With a few simple tips, any meal can accommodate a vegetarian, whether you have five minutes' or a week's notice.

First up, let's figure out what "vegetarian" actually means. Some people call themselves "vegetarians" but eat fish or chicken, and others are much stricter about what they'll eat.
Continued ›
Article created on: 7/29/2008