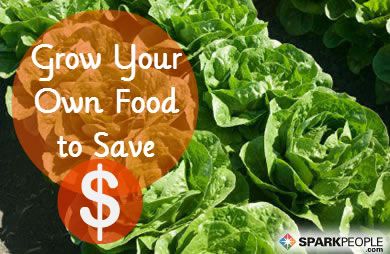 Many of us assume that a backyard vegetable garden can save us money, but is it really true? After investing in equipment, soil, seeds and water, do you really come out on top?

The answer varies upon the size of your garden, whether you start your plants from seeds or purchase seedlings, and how many tools or gardening accessories you may need to purcase. According to National Gardening Association estimates, a well-maintained food garden can yield an estimated half pound of fresh produce per square foot, yielding a $500 return on average when considering a typical gardener's investment and the market price of produce.

Here are some tips on starting a cost-effective garden for your wallet and your waistline.

Get the Right Soil for the Right Price
If you are starting a new garden, the most cost effective method is using the soil you already have available. However, most soil needs to be supplemented to improve its texture and nutrient density. If you live near farmland, you may be able to find free or inexpensive aged manure from a nearby farm that you can work into the first few inches of soil. Check your local paper or Craigslist for manure. Most will offer it for free if you pick it up yourself, or charge about $20 per truckload.

If your clay soil lacks texture and breathability, take a trip to the garden center for sand or compost. A bag will probably run from $3-$10 for 40 pounds, which will cover about 4 square feet of topsoil.

Sandy soil has the opposite problem of clay soil. Where clay is prone to waterlogging plant roots, sandy soil is too loose and struggles to maintain moisture. To amend sandy soil, simply use compost or some chopped up leaves, which are free! To save money over time, start your own compost heap. By next year, your pile will save you big bucks on fertilizer!

Seeds and Seedlings
Most packets of seeds cost a couple bucks, and a typical seed packet contains between 800 and 2,000 seeds. If you only harvested half of those seeds (about a 40-foot row) you'd be spending $140-$200 less than if you had purchased those mature vegetables from the grocery store. If you were to buy organic produce, the savings could be upwards of $180-$300.

Starter plants, available at nurseries and farmers markets, cost more than a packet of seeds (up to a few dollars per plant), but are still inexpensive and can save you time and space if you don't want to start your plants from seed yourself.

Continued ›
Article created on: 3/30/2012