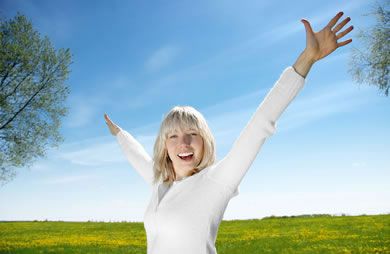 "I really want to lose weight. I hate the way I look and feel, and I know things will be much better when I get the weight off. But I just can't stay motivated to do it. I think there must be something wrong with me."

If this sounds like something you say to yourself, I've got good news for you. There probably isn't anything seriously wrong with you. You have a very common problem that affects many people who want to lose weight—expecting your negative feelings about your body to do something they can't do.

The motivation you need to successfully lose weight is like a fire. It will burn hot and long when you provide it with the fuel it needs, but it will die out quickly if you don't. Disliking how you look and feel might provide decent kindling to get the weight-loss fire started, but it's not the proper fuel source to keep it going.

When you're driven by negative thoughts about yourself, you just don't have the raw materials that are necessary to achieve the results you want. This problem lies in how our minds work. If I were to tell you, for example, that I'll give you $1,000 if you can manage to not let the thought of "chocolate" enter your mind during the next 60 seconds, do you think my bank balance would be in big trouble? I don't. It's certain that some of your next few thoughts would have something to do with chocolate. Most likely, you'll wonder how you can stop yourself from thinking about chocolate for 60 seconds—oops, too late! You lose, and my $1000 stays safely in my bank account. It's virtually impossible to not think about something for a minute, when that's what you set out to do. Try it for yourself.

The same thing happens when you set out to lose weight because you don't like your body. The first thing you're likely to do every morning is notice how fat you still are, think about the food you can't eat, or lie in bed, wishing you didn't have to get up early to exercise. You might as well throw a big bucket of ice water on that motivational fire of yours, because sooner or later, you're going to get very weary of this constant struggle and give up.

So, what's the alternative? What do you do if the reason you want to lose weight is because you don't like the way you look or feel? Where do you find the right fuel for your motivational fire?

Continued ›
Article created on: 5/29/2007