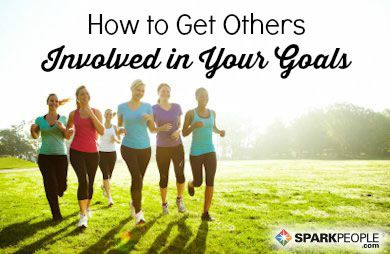 Coaches, mentors, trainers, teammates, partners, fans. Even the greatest athletes in the world can't do it alone.

People naturally perform better when others are on their side and helping out. Even in everyday nutrition and fitness, we've found that people who involve others and ask for help get much better results and stick to their programs longer than people who try to go the distance on their own.

Why is that? For starters, positive peer pressure can be one of the most powerful motivators around. It's tougher to quit when someone else is counting on you. In fact, with a team that's pulling for you, it's less likely that you'll

want

to quit.

When you involve others, you have access to more knowledge, more ideas, more enthusiasm, and more resources. Bicyclists and race car drivers are finding out that they need teammates looking out for them if they have any chance at all of winning. You can take advantage of the same benefits.

Finally, having other people help out just makes weight loss a heckuva lot more fun. Especially for social exercisers, trying to lose weight and exercise alone can leave you bored out of your mind.

Your weight loss goals are every bit as important as those of a world-class athlete. This is why SparkPeople emphasizes meeting and getting to know other members. We've seen the Spark that happens on the Message Boards, when members rally behind someone who's struggling, or congratulate the latest success.

Business people draw on a team of accountants, lawyers, financial advisers, headhunters, board members, etc. Together, they form a team of specialists that open up possibilities to that businessperson and his/her business goals. You can build a similar team around your weight loss goals. People that can help with your journey are all around you. You can do this without making a lot of demands on anyone's time.

Continued ›
Article created on: 11/10/2003