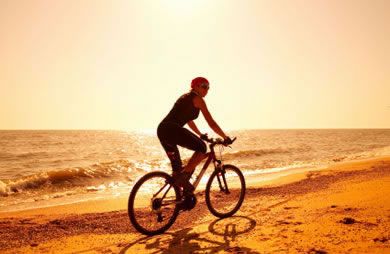 Before Bill Smith (pictured to the right) joined SparkPeople in September 2002, his life was in disarray. He weighed 335 pounds and was an "eating machine." He loved buffets and would order an entire large pizza and finish it by himself. He did not exercise at all, was stressed out all the time, and just wanted to sleep all day. In his words, "I truly wanted to curl up in a corner and just give up."

Bill had tried numerous diets in the past, but to no avail. None of them involved goal setting, and diet alone just didn't work for him. Even when Bill first joined SparkPeople, he wasn't very active on the site. He would post on the message boards every now and then, and he did set some goals. But he didn't start using the site until the following month--after his wife told him she wanted a divorce.

She had recently lost a lot of weight and said that her life had changed because of it. Bill blamed himself and became depressed. "I began to hate myself for what I was and started realizing that I had a lot more I could look forward to," said Bill.

So he started to get serious. He re-started his SparkPeople and concentrated on his goals. And he started depending on the SparkPeople Community for support. He saw how much support the message boards provided and realized that, through the stories of others, he could make a difference in his own life.

To exercise, Bill started out by walking two miles a day. After a month he increased his mileage to four miles a day. Then by January 2003, he joined a gym and started working out there, too. Soon after Bill started exercising, he saw huge results in all aspects of his life. For starters, he was losing weight consistently, every week, for the first time ever.

His weight loss positively impacted other areas in his life. He had the energy and interest to get out and do things instead of lying around the house. He did not depend on food to get through the day; he ate less. Instead of walking or lifting weights because he "had to" to get into shape, he did it because he wanted to.

Bill also become a pastor in compassionate ministries at his church. Now, he was helping others along with himself. He was making great changes in his life and feeling great.

Continued ›
Article created on: 9/21/2005