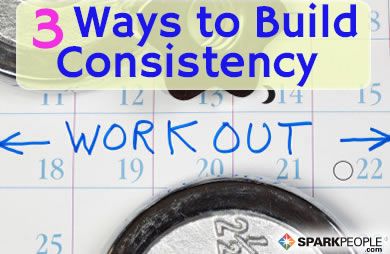 You don't have to be an expert to figure out that consistency is pretty essential to successfully change your life, your health, and your weight. But it's also pretty clear that building a consistent routine of regular exercise and healthy eating is not an easy thing to do.

You start off the day with the best intentions—to exercise, track all your food, and make healthy choices. But then life happens. One of the kids is sick, the babysitter is late, the snowplow blocked your driveway, the boss asks you to work overtime, or any one of a hundred other surprises that can really wreck your day. Before you know it, your plan is in trouble and your prospects for "sticking to it" aren't looking very good. In fact, things are probably going to get worse as the day goes on. By the end of the day, you have no energy left for exercise, and the task of preparing a healthy meal feels like a big burden when what you really want is a break. Something has to give.

More often than not, "what gives" is your plan to exercise and eat right. When it's hard to do everything, the things most likely to go undone are those that don't affect or involve anyone but you—especially if those things aren't exactly your favorite things to do anyway.

So how do you change this pattern? With the

three rules for building consistency

.

These three simple rules, when followed faithfully, will make it easier for you to be consistent with your healthy lifestyle habits—even on the toughest days.

Rule #1: Never tell yourself "I'm not motivated."
That's not the real problem, unless you really don't want to lose weight or live a healthy lifestyle. As long as you do want these things, you have all the motivation you need.

It may be true that sometimes you don't want to exercise, or that you really want to stop and get fast food rather than cooking dinner. That's understandable, but it doesn't mean you're not motivated. It just means that you want two different and opposing things, and you have to make a decision. Telling yourself that you lack motivation is just a way of denying that you really do have a choice. It makes the problem seem mysterious and out of your control, and it makes you feel less powerful than you really are, because you lack something (the motivation) you need. Not true!

Continued ›
Article created on: 1/23/2007