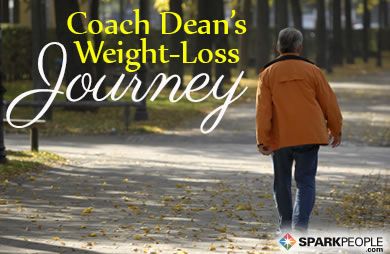 If you had told me six years ago that I'd be working for SparkPeople today as a fitness and weight loss coach, I'd have told you to see a psychiatrist and get some medication to help control those delusions of yours.

At that point, my weight was the highest it had ever been—somewhere over 370 (the max my doctor's scale could register)—and my first complete physical exam in 10 years had just confirmed that I had type 2 diabetes, high cholesterol, high blood pressure, sleep apnea, arthritis, peripheral neuropathy, and compression fractures in my spine related to my excess weight. My problems with major depression and anxiety were already bad enough to put me on disability, and this news about my physical health didn't exactly cheer me up. Honestly, my first reaction was to think: "It doesn't really matter…I'll probably be dead in a couple of years, and that's OK with me."

I was tired of dealing with my weight and all the physical limitations it caused. I was worn out from putting so much energy into hating myself and my life. Even though I had already quit smoking three packs a day and beat my 12-beers-a-day drinking habit, I was very sure that nothing would change my compulsive eating. I'd lost weight many times before with exercise and diet, only to see it all come back—and more. Now I could barely walk, much less do the exercise the physical therapist kept talking about. Now that my kids were grown and out on their own, it seemed that eating was often the only thing that could get me through the day. Take away my daily trip to the bagel shop downstairs for chocolate-dipped peanut butter cookies and a large soda, and I might not get out of bed at all!

Well, things have changed a lot for me since then. I'm about 140 pounds lighter and I'm keeping the weight off. My blood sugar, cholesterol, and blood pressure are under control without medication, and most importantly, I'm feeling pretty good about myself and my life. Here's how it all happened…

One Step at a Time
When I started my journey, I hadn't heard of SparkPeople or "fast break" goals, but that's exactly how I started, by focusing on two things. Diet-wise, I decided to limit my saturated fat intake to less than 15 grams per day. My normal diet included a lot of high-fat items: pizza, sausage, bacon double cheeseburgers, cookies and candy bars—you name it. Reducing my saturated fat intake meant finding substitutes for most of what I had been eating. As it turned out, this solved quite a few other problems with my diet too, including my total calorie intake.

Continued ›
Article created on: 11/7/2006