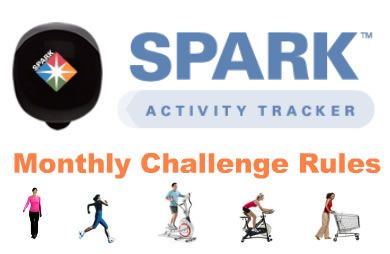 OFFICIAL RULES ELIGIBILITY: Sweepstakes is open to legal residents of the 48 contiguous states, Alaska, Hawaii and the District of Columbia who are 18 years or older at the time of entry. (We're sorry, we'd love to include members outside of the United States in the contest, but the legal work involved is too overwhelming--we'd prefer to spend our resources improving the site!) Employees of SparkPeople, Inc. and affiliated entities and their immediate families (spouse, parents, children, siblings and their spouses) and individuals living in the same household as such employees are ineligible. Sweepstakes subject to all applicable federal, state, local laws and regulations. Winners may be required to complete relevant tax forms as a condition to the delivery of the applicable prize. Void where prohibited or restricted by law. All prizes are offered on an as-is basis. SparkPeople offers no warranty and does not take responsibility for lost, defective or damaged goods.

HOW TO ENTER: If you use a Spark Activity Tracker, you will be automatically entered into the contest each month, assuming you are eligible per the rules above. Spark Activity Tracker challenges are based on fitness activity recorded by the Spark. Typically when you reach a certain activity level (number of steps, miles, calories burned, or exercise minutes in a month) you will receive one entry into the drawing.

NO PURCHASE NECESSARY: You may also enter the drawing if you do not have a Spark Activity Tracker. Simply send a postcard or letter with the words "Spark Activity Tracker Entry" and include your name, mailing address, email address, and phone number. One entry is allowed via mail per month. Mail entries to SparkPeople Contests, 310 Culvert Street Suite 301, Cincinnati, Ohio 45202.

JUDGING: Winner will be selected by random drawing from all eligible entries received on or about drawing date by Sponsor, whose decisions are final and binding on matters relating to this sweepstakes. Odds of winning depend on the total number of eligible entries received. To receive a complete list of winners or a copy of the Official Contest Rules, send a self-addressed stamped envelope to The Spark Activity Tracker Challenge, Attn: Office Manager, 310 Culvert Street Suite 301
Cincinnati, Ohio 45202. Specify winner's list or rules on your request.

PRIZES: Prizes will vary based on the specific giveaway you enter. Odds of winning depend on the total number of eligible entries received. Winners shall be responsible and liable for all federal, state and local taxes on the value of their prize. Please allow up to 6-8 weeks for prize delivery. In some cases, prizes will be shipped by a representative of the company awarding the prizes, rather than an employee of SparkPeople.com.

Continued ›
Article created on: 10/3/2006