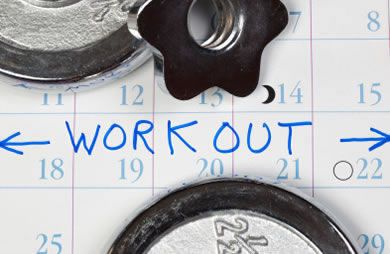 Think that working as a fitness or nutrition expert is about being perfect? Think again! SparkPeople recommends a balanced lifestyle that includes moderation when it comes to food and exercise. Our experts live this way too. Don't believe us? Read about the SparkPeople experts' guilty pleasures!

The Experts
Dean Anderson: Psychology and Fitness Expert
Chris Downie: Goal and Achievement Expert
Becky Hand: M.Ed., Licensed & Registered Dietitian
Tanya Jolliffe: Healthy Eating Expert
Jen Mueller: Certified Personal Trainer
Nicole Nichols: Certified Fitness Instructor



How many days per week do you rest from working out completely?

Dean: I don't really have a schedule. If I don't feel like doing anything, I don't. It seems to work out to about one day off per week, on average.

Chris: Zero. I only do no physical activity if I'm really sick. BUT, I do highly recommend having light days where you do very mild activity. My program is based on doing simple things at home that are ingrained into my daily routine, like bouncing on a trampoline in the morning sun to wake up, or stretching at night under the stars to relax. Then, many days I'll also do full workouts, but some I won't.

Becky: I prefer to rest only 1-2 days, but sometimes up to 3 or even 4 days during those crazy weeks when too many activities are scheduled.

Tanya: Usually 2 days. If I have been good and fit all my workouts in during the week, I take the weekend to relax with family and friends.

Jen: I take at least one day of rest from all activity, and then if I need it, I'll have another 1-2 days per week where I do something lighter to give my body extra time to rest.

Nicole: Always 1 or 2 days. Sometimes more!



How often do you take a break from consistently exercising?

Dean: I don't worry about exercise when I'm traveling or during special occasions. This year, I spent 5 days in Idaho for one kid's wedding, and another week in California visiting my granddaughter—didn't lift a finger the whole time.

Chris: Never. But when I am busy at work, I will have more light days where I just do enough to maintain my foundation and enough for regular stress relief.

Becky: Summer seems to be my downtime from my regular exercising routine—kids are home from school, various activities (sports, vacations, fair, trips) are scheduled—exercise just keeps getting pushed to the bottom of the list. My intensity and duration are often shorter.

Tanya: It depends on the year. Sometimes I rest for a few weeks throughout the year after races (half marathons, 10K's, mini-marathons); other times I rest a few months if I am really burned out and need to refocus.

Jen: I've never really taken a break completely. Usually I'll have periods of time where I don't do as much (in between training for different running events), but I'm pretty active on a regular basis.

Nicole: As a fitness instructor, I don't get a break from exercise as much as I'd like. Ideally, I take a week-long break from exercise 2-4 times per year just to rest.

Continued ›
Article created on: 9/27/2006