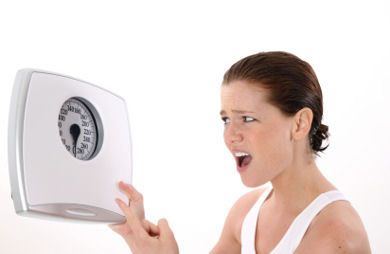 Weight loss can make smart people look silly, confound roomfuls of award-winning scientists, and baffle the rest of us, who are otherwise competent and brilliant in our own right. Somehow the mysterious answers still elude us.

Part of the mystery and frustration could be that we often look at the whole dieting question backwards. There are a number of assumptions and beliefs we often hold that are actually the opposite of what's really true. However, there are some paradoxes (statements that seem contradictory but are actually true) that you should hold onto. Putting these to use will help you see progress and, more importantly, gain confidence.

There are 9 Goal Achievement Paradoxes that you can apply to your weight loss goals, or any part of your life. (Read about the first three here.) Perhaps they can lend some insight for how to solve some puzzles in your own life:

PARADOX 4: Following a regular program gives you more flexibility.
Which is easier to reschedule, a five-minute chat or a three-hour meeting?

Our lives may seem pretty full already. Lists get longer while available time gets more scarce — and the real world is always waiting to muck things up. When schedules change and new things come up, the toughest items to move are the ones that chew up the most time. They're also the easiest to drop for "convenience."

Regular, little bits of progress are easier to fit into your ever-changing schedule. By building consistency with these little bits, you won't need to block out huge amounts of time to do it all at once.

For even more flexibility, have several alternatives planned for getting at the same results. By regularly choosing from a variety of "little thing" options, you can make your life more flexible and manageable.


PARADOX 5: The more time you spend on SparkPeople, the more time you'll have for important stuff.
Most people don't think they can do anything about all the stuff they "have" to do every day. In reality, it's about choices.

You can simplify your life, first by finding goals to focus on, then by getting rid of things that don't support any goal in particular.

The more you focus on what's important, and the more you "do a little bit every day" to go after your goals, the more your days will be filled with meaningful activity. Everything you do has meaning when you're working toward your goals or a purpose. Even the stuff that fills your schedule now will look, feel and smell more important—if there's a juicy "why" involved.

Imagine living a life of doing things because you want to, not because you have to.


PARADOX 6: You can get more results with less effort.
Opposite of everything you've ever been told, how is this possible? Simply put, as you build yourself a strong foundation, you don't have to stretch as far to get what you want.

Pretend you're collecting walnuts from a tree by throwing rocks into the branches. At first, you'd have some success, but the effort outweighs the results. Now, suppose you started to build a ladder by grinding the used walnuts into a woody pulp, a ladder that grew as you collected more walnuts — a cycle of growth begins. The higher the ladder grows, the closer you get to the walnuts. The closer you get, the easier it is to hit and collect more walnuts for your ladder, your foundation.

Eventually, you'll reach the branches. Then, just by shaking the branches, you can collect hundreds of walnuts in just a few seconds. Ta-da! Results outweigh the effort.

You'll also be in a perfect spot to go after a higher tree.

Article created on: 6/13/2005